Ipswich Town: After Mick McCarthy and Paul Hurst - where next?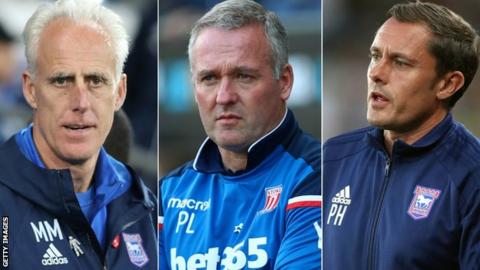 Having allowed Mick McCarthy to leave towards the end of his contract in April, many in and around Ipswich Town were looking ahead to a new era.
A young and fresh successor was named, but Paul Hurst managed just one win from 15 games in charge before being sacked on Thursday.
Former Norwich boss Paul Lambert is expected to be named as Hurst's replacement and, should the Scot be appointed, his first job will be to prolong Ipswich's 16-year stay in the Championship.
BBC Sport assesses the situation at Portman Road.
Better the devil you know?
To outsiders, Ipswich's decision to let McCarthy go after more than five years in charge seemed odd.
On one of the more modest budgets in the league, the former Wolves and Sunderland boss led the Tractor Boys to four top-half finishes - including a play-off spot in 2014-15 - finishing no lower than 16th.
"I stuck up for Mick McCarthy on a few occasions last season," former Ipswich player Andy Legg told BBC Radio Suffolk.
"He was an experienced manager who knew how to set up a team and how to grind out results in the Championship.
"He did a great job with the budget he had. Sometimes, it's better the devil you know."
However, many regulars at Portman Road would tell you that is not the full story.
A large section of fans had been disillusioned with McCarthy's style of play for some time, with the Yorkshireman not afraid to give as good as he got.
He called out fans who he claimed "ruined" home games last season, calling them "numbskulls", while attendances fell.
"McCarthy had run his course, so change had to happen," said Graham Blackburn, host of Ipswich Community Radio's Naked Football Show.
"He got a lot of stick, but he was earning quite a lot of money as the club's manager and he shouldn't have had to turn on the fans himself."
'I don't think it was a happy camp'
Two months after it was confirmed McCarthy would leave, Ipswich owner Marcus Evans turned to Hurst, who had just taken Shrewsbury to the League One play-off final.
He had to wait 13 games for a win - seen as a potential turning point - but that was followed by consecutive 2-0 defeats by QPR and Leeds, which ended the shortest-ever managerial reign at the club.
"I think it was due and I think it was necessary," ex-Ipswich and England defender Terry Butcher said of Hurst's sacking.
"These players are rock bottom at the moment but - I know it sounds a bit sick - they'll be quite happy in a way that Paul's gone, and they have a chance to prove themselves to the new manager."
The club's four highest scorers last season - Martyn Waghorn, Joe Garner, Bersant Celina and David McGoldrick - all left during the summer, replaced largely by players who spent last season in Leagues One and Two.
With results not picking up and confidence dwindling, there had been talk of unrest in the camp.
"Rumours don't just come out from nowhere," said Ipswich legend Russell Osman.
"If one or two of the players are unhappy, they will tell friends, friends will tell friends of theirs and word does get around.
"I don't think it was a happy camp - he tried to change a lot of things within the club."
Could old enemy be the answer?
Ipswich are keen to name their new manager before Saturday's game at fellow strugglers Millwall, with the club bottom of the Championship and four points from safety.
Lambert has emerged as the overwhelming favourite, having been out of a job since leaving Stoke after their Premier League relegation in May.
He took Norwich to the top flight in 2011 following back-to-back promotions, and would become the first man to manage both East Anglia sides.
"I'm not sure the supporters would take to that too kindly," Osman told BBC Suffolk.
"I think we're still proud enough to find our own managers, and not have to worry about somebody who's been associated with Norwich City."
But given Ipswich's precarious position, many seem prepared to put rivalry aside to welcome Lambert.
"Norwich fans can't help but speak very highly of him and what he did there," Butcher said.
"Actually some Norwich fans are dreading the derby in February, knowing that Paul Lambert's coming to town with Ipswich, so that gives me hope anyway.
"It's going to take a genius to work a miracle there, in my opinion, to try to get them in the mood for the games coming up."
Blue Monday Podcast host Benjamin Bloom added: "We've gone from the 'old school, pragmatic, try not to lose and finish halfway up the table' manager to the 'young, fresh, lower division' manager, so I don't know what there is in between.
"If the best candidate out there in October has got Norwich on his CV then so be it. We need the right guy to get us moving up the table and moving forward this season."