Tony Mowbray: Blackburn Rovers boss set to make first return to former club West Brom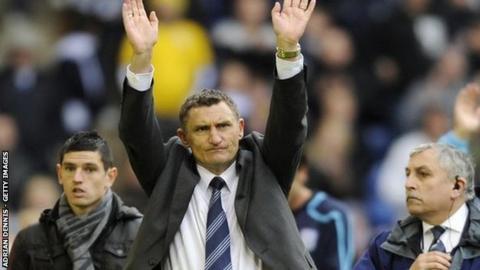 Blackburn Rovers boss Tony Mowbray says he still has a fondness for West Brom ahead of his first return to his former club since making an "emotional" exit to become Celtic manager in 2009.
Mowbray admits he felt drawn to going back to Celtic, who he was with as a player when he tragically lost first wife Bernadette to cancer in 1995.
But the hard part was leaving Albion in the wake of the club being relegated.
"The fans were so good to me on the back of relegation," he told BBC Sport.
"We were saluted all around the pitch on the day we did get relegated at home to Liverpool. And it was never an easy decision to leave.
"It was an emotional decision for me. I'm an emotional guy. I live my life for my family and my football.
"I'd had a loss in my life and it happened up in that part of the world and the Celtic supporters at the time had been amazingly supportive of me.
"When they came calling I thought it was just the right thing to do. It was an emotional not a professional decision.
"You make your decisions and sometimes you have the benefit of hindsight. But you can't go through your life with regrets."
Mowbray's magic touch
It turned out to be an ill-fated nine months back with Celtic at Parkhead for Mowbray, who was sacked in March 2010 following a 4-0 defeat at St Mirren and succeeded by his coach Neil Lennon.
But Mowbray has since restored his managerial reputation at Middlesbrough, Coventry City and now Blackburn.
After guiding Rovers to promotion from League One in May, he brings his side to The Hawthorns ninth in the Championship, just three points behind the Baggies and five off top spot in what is already proving an even more tightly congested promotion scrap than usual.
Mowbray knows just what it takes to win promotion with Albion. He is one of only three Baggies bosses to have done so since the Premier League was formed in 1992. And, while Gary Megson did it twice (in 2001-02 and 2003-04), Mowbray is the only one to have achieved it as champions (in 2007-08).
And, when the Baggies did it again under Roberto Di Matteo (in 2009-10), it could be argued that it was pretty much with the team Mowbray had built, two of whom - Chris Brunt and James Morrison - are still at the Black Country club.
"The team was so much stronger and cuter about how to stay in the Premier League the following year," Mowbray told BBC Radio Lancashire.
"And it was pretty much the same group. In fact, a couple of them are still there.
"I've been back to watch and scout games but this is the first time I'll be coming back with a team.
"I'll always have a fond place in my heart for West Bromwich Albion as they were very good to me and hopefully I was good for them
"I liked the supporters and I liked the West Midlands people. And, after the weekend, I wish them well on their journey back to the Premier League."
Tony Mowbray was talking to BBC Radio Lancashire's Andy Bayes