AC Milan: Gennaro Gattuso 'baffled' by performance against Real Betis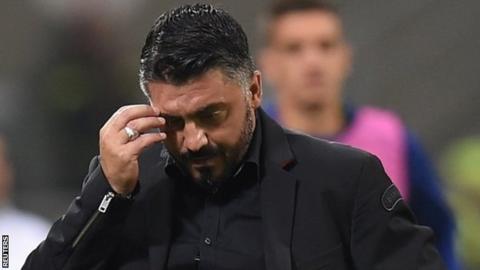 AC Milan boss Gennaro Gattuso accepts his job should be debated after they produced a "terrible, embarrassing performance" against Real Betis.
Milan are 12th in Serie A after a 1-0 injury-time defeat by Inter Milan and followed that with a 2-1 Europa League home defeat to the Spanish side.
"It's only right that my position is under discussion," Gattuso, 40, said.
"It's difficult for a coach to sleep after a performance like this, one of the worst."
Gattuso, a former midfielder with Milan and Italy, has been in charge of the club - who have not won a major trophy in seven years - since November 2017.
Italian newspaper La Gazzetta dello Sport says his job is not in immediate danger, but that Milan's next three games are crucial.
"I'm worried, disappointed and angry, especially with myself," he said. "I do not think about my situation, I'm thinking about how to solve this problem.
"I'm the first person responsible for this situation, I'm bound by the results. I train a great club and it is right for me to take responsibility.
"I have to understand who has the right mentality. In some moments we applied nothing which we had prepared. There is too much fear of making mistakes.
"It's not a question of formations - the team has lost its identity. This performance baffles me. Probably my staff and I were not clear enough, otherwise we can not explain this performance. The defeat does not hurt as much as the performance.
"We did not play as AC Milan do. Right now what leaves me more worried is the fragility and the mentality. We must understand why the light suddenly turned off."