EFL boss Shaun Harvey wants to relax fans' alcohol ban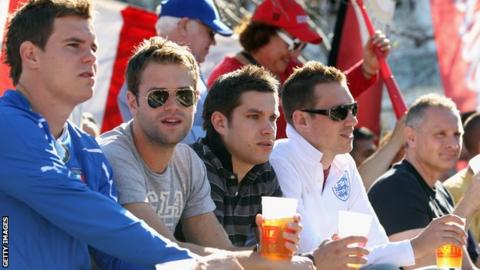 EFL chief executive Shaun Harvey wants to lift the long-established ban on supporters drinking alcohol in the stands.
Football fans in England and Wales are forbidden to drink alcohol within view of the pitch under laws passed in 1985.
But with hooliganism no longer a major issue in the domestic game, Harvey believes it is time to relax the ban.
"To have a blanket ban remaining in 2018 is, in our view, disproportionate to today's level of risk," he said.
"One of the key issues that requires further examination is the fact football is being treated inconsistently with other sports.
"The EFL would always request football is given the same opportunities as other sports, so the many law-abiding citizens attending matches who wish to be able to drink while posing no threat to public order are able to do so."
Under the Sporting Events (Control of Alcohol etc) Act 1985, spectators are only permitted to drink in concourse and hospitality areas before and after games and at half-time.
However, there are no such restrictions on fans of other sports, including rugby and cricket, while alcohol is often allowed at concerts held in football stadiums.
Harvey's view has been backed by the Football Supporters' Federation, while several EFL clubs are also understood to support a change in legislation.
However, a Home Office spokesperson said: "This is an important piece of public order legislation, which specifically applies to designated football matches because of football's unique public order risks.
"It provides a balance, permitting fans to enjoy alcoholic drinks in a controlled environment. We are satisfied that existing legislation is necessary and appropriate."
A total ban on alcohol inside grounds in Scotland was introduced after rioting at the end of the 1980 Scottish Cup final between Celtic and Rangers.