Swansea City: Manager Graham Potter says no pressure to sell defenders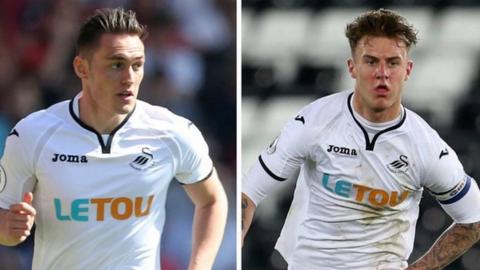 Swansea City manager Graham Potter says he is under no pressure to sell young defenders Connor Roberts and Joe Rodon.
Roberts, 23, and Rodon, 21, are out of contract at the end of the season and have been linked with potential moves in January.
Both have been in fine form this season, with Roberts impressing for Wales.
"We are trying to build something and Connor is part of that process," said Potter.
"At the same time, can I sit here and I say if Real Madrid come in and offer £50m that there would not be pressure to sell?
"Everything depends but the reality of it is we are happy with Connor, he has taken some big steps and he's sensible enough to know where his next one should be.
"I don't feel any pressure to sell in January."
This has been a breakthrough campaign for Roberts and Rodon, who both graduated from Swansea's academy but spent time away from the club on loan as they waited for first-team opportunities.
Those openings arrived this season following the club's relegation to the Championship, and both players have taken them with a flourish.
Rodon's composed performances in central defence have earned him a first call-up to the Wales squad, while Roberts' tireless, attacking displays at right-back and on the right wing have seen him score three goals in his past 11 matches for club and country.
"I think it's common sense [to say we would want Roberts to stay]," said Potter.
"He's been at the club since he was a kid, he's been part of the academy, he is a fantastic story to tell.
"He's a good player, he's an improving player with a lot of good years ahead of him.
"He has great attributes as a footballer and a lad, his desire to win and to play for Swansea City is incredible. Of course he is a player we want to have around."
January transfer targets
As well as aiming to keep players such as Roberts and Rodon, Potter will also be hoping to add to his squad when the transfer window reopens in January.
Kyle Macaulay, who followed Potter to Swansea from Ostersunds FK in the summer, is now the Welsh club's head of recruitment and will take a lead role on transfer strategy alongside the manager.
Following changes to the club's recruitment structure which also saw data analyst Dan Altman leave his consultancy role, Potter hopes the Swans will learn from their previous mistakes in the transfer market.
"We are at the start of it all, we are making a bit of progress.
"The first window was a bit chaotic in terms of players going out and the situation of trying to get the club back on its feet.
"So that's us coming straight from Sweden and then you are looking at how you can start the process of making us better in the longer term.
"January comes around quick with all the games coming thick and fast.
"My priority is always the players who are here, but we do have to do more to develop that process to enable us to be better in the long term."