Aleksandar Mitrovic: Striker on Newcastle struggles & love of Fulham quiet life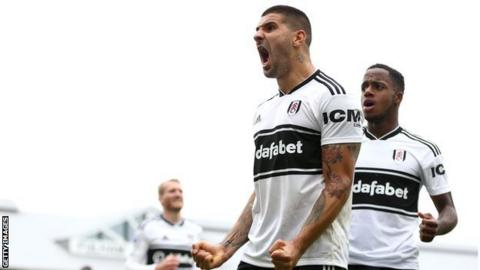 Aleksandar Mitrovic had questions to answer when he left Newcastle United for Fulham. Would he always be the untamed talent who struggled on Tyneside or was there more to the Serbia striker than met the eye?
Mitrovic has gone a long way towards delivering the answers at Craven Cottage after spearheading the west London side's return to the Premier League with 12 goals in 20 games on loan last term - then starting this season in fine style following his permanent £22m switch in the summer.
He harbours no ill feelings towards the Magpies, where he scored 14 goals in 65 league games in the Championship and Premier League. It was just a case of the wrong club at the wrong time.
"It was really hard in Newcastle," he says. "It was one city, one club. Everybody there was really crazy about Newcastle.
"Sometimes it is nice, but sometimes you want to be quiet and go out with your family. When you are not happy on the field, you just don't want to think about football, [you want to] have your space.
"In Newcastle, there is no chance."
He is equally diplomatic about former boss Rafael Benitez, who inherited the striker after predecessor Steve McClaren brought him to St James' Park from Anderlecht for £13m in July 2015.
"We just didn't suit each other," says Mitrovic. "I didn't suit his tactics and I didn't really feel comfortable to play, so he couldn't get the best out of me. But it is nothing personal - just business.
"We had a good relationship and he is a good guy. Defensively he is one of the best managers that I have worked with."
Now Mitrovic can mix business with pleasure in the capital.
"I can go to the city," he says. "I am right on the river so it is always nice to have real space and time with your family. Nobody can disturb you. I enjoy it.
"Away from football it is just family. I try to spend time with my kids - I have to spend a lot of time away so every time I am at home I like to spend time with them. I am a really nice, quiet guy."
The quiet man
A visit to Fulham's secluded Surrey training HQ proves the 24-year-old is a more rounded character than the hothead many labelled him.
Mitrovic's early disciplinary problems at Newcastle - he was booked 22 seconds into his debut and sent off in his fourth game - have led to a somewhat undeserved reputation. Two red cards and 13 yellow in 101 games in England is hardly outrageous for a striker at the sharp end of the game's physicality.
| Season | Team | Games Played | Yellow Cards | Red Cards |
| --- | --- | --- | --- | --- |
| 2015-16 | Newcastle United | 36 | 4 | 2 |
| 2016-17 | Newcastle United | 29 | 4 | 0 |
| 2017-18 | Newcastle United | 7 | 0 | 0 |
| 2017-18 | Fulham | 20 | 3 | 0 |
| 2018-19 | Fulham | 9 | 2 | 0 |
And in person, Mitrovic is a quietly spoken figure whose off-field presence is nowhere near as intimidating as his matchday persona within Slavisa Jokanovic's side.
He comes straight out of his beloved gym, where he can often be found on his days off, sits back in a chair sipping a bottle of water and reflects on his career in England.
"I am still the same guy but maybe in the past I spent time fighting with people. having chat with the referee," says Mitrovic. "Now I put my focus on my game, my goals - but I'm still the same way.
"When I play football I try to win the game. That is part of me. That is who I am. If you ask any player they will always say the same. They play to win."
Having sampled the goldfish bowl existence and fanaticism of Newcastle, Mitrovic seems to be thriving in the space that life in London offers, living on the banks of the Thames with his partner Kristina and children aged two and nine months.
The Serb factor
Mitrovic was considering a move from Newcastle to Middlesbrough when contact from Fulham manager Jokanovic redirected him to London.
And the pair go back a long way, with Mitrovic a ball boy at Partizan Belgrade when Jokanovic was coach between 2007 and 2009.
"Thank God we kept in touch and he was one of the reasons I chose Fulham," says the striker.
"The manager is a big influence on me. It is always something special when you can talk with people from your country. It is always nice to hear advice in your own language.
"He's a great guy, a good manager and I really enjoy working with him. He is calm, honest - he knows what to do and get the best out of me."
A brief flirtation with karate was not enough to stop Mitrovic - brought up in the town of Smederevo, 28 miles down the Danube from the capital Belgrade - pursuing his dream to play in the Premier League, where his striking idols were Newcastle's own icon Alan Shearer and Chelsea's Didier Drogba.
"These are the two players I wanted to watch, work like and play like," says Mitrovic. "It is hard but I try to learn, to improve and to train hard to try and reach the top level."
There was another player the young Mitrovic idolised.
He says: "As a Serb of course you looked at Nemanja Vidic at Manchester United, Branislav Ivanovic at Chelsea, Aleksandar Kolarov at Manchester City - but obviously the biggest man who played in England was Vidic. He was one of the best defenders who ever played in the Premier League.
"All the dreams I wanted when I was young have come true and I feel I have a lot of space to improve.
"I hope if I can keep working everything will be better and better."
Fulham learning harsh lessons
Fulham arrived in the Premier League on a wave of optimism after beating Aston Villa in a Wembley play-off final in May, following that up with a £100m outlay as they confirmed Mitrovic's permanent signing, captured the coveted Jean Michael Seri from Nice for about £25m and brought in Germany World Cup winner Andre Schurrle on loan.
However, things have not gone to plan so far, with Fulham in the relegation places after one win and five points from their first nine games.
"We didn't expect this but we are here in this position and we need to try to get out really fast," says Mitrovic. "We have five points but if you can get one or two wins you can be in the top 10.
"Last year, when we made mistakes, teams couldn't punish us but now every mistake we make is punished with a goal - so we have to play smarter. This is life in the Championship compared to life in the Premier League.
"Some might say [Fulham] is a smaller club in the Premier League - but it is a club with big ambition, with a big future.
"I'm happy to be part of this."