Karen Carney: Phil Neville speaks to Instagram about threats to England & Chelsea star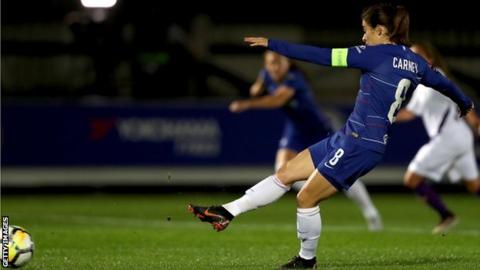 England women's manager Phil Neville says he has spoken to Instagram about the abusive messages sent to midfielder Karen Carney.
Carney received death and rape threats on the social media platform after Chelsea's Champions League win over Fiorentina.
Speaking on 5 Live Sport, Neville said: "I spoke to the FA and Instagram in terms of policing this better."
Carney, 31, described the abuse as "abhorrent and very upsetting".
Neville, whose side have qualified for the 2019 World Cup in France, said his worry is that as players get more exposure, they will suffer more abuse.
"It's impossible to police - some of those messages are being sent from places all over the world," he said.
"The players are obviously getting exposed to higher levels of media attention and better TV coverage [and] they're now getting the same messages as male footballers get.
"Some of the messages I received as a footballer, and that players nowadays get, is beyond acceptable for me."
Instagram released a statement saying: "We do not tolerate threatening or abusive behaviour and we have removed the account that sent the messages."
The abuse was also reported to police by Carney's club, Chelsea, and by the Football Association.
'We need social media'
Neville said that the need to promote the women's game meant social media was vital, but that he was concerned about what its impact would be at next summer's World Cup.
"When I take the team to the World Cup it'll be part of our pre-camp messages - how are we going to handle social media as a team, do we stay on it do we come off it?
"It's slightly different in the women's game as we need social media to help promote the game, sell tickets and get the players exposure.
"We want fans around the world to see that the brand of the Lionesses is getting better and the players are getting better. We need social media."