Manchester United 0-1 Juventus: Chiellini & Bonucci's Harvard University class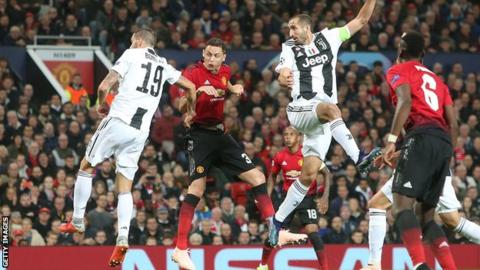 Were Manchester United given a lesson in how to defend by Juventus at Old Trafford?
Red Devils manager Jose Mourinho thinks so after his side's 1-0 defeat by the Italians in the Champions League on Tuesday.
"Leonardo Bonucci and Giorgio Chiellini, they could go to Harvard University to give classes about how to be a central defender," he said.
"Quality in football is everywhere. When I say quality I don't just say creative players - Chiellini and Bonucci, it is absolutely beautiful to see."
So were Chiellini and Bonucci really the professors and United the students? Here are the numbers from their educated performance:
Mourinho is referring to two centre-backs with a combined age of 65 (Chiellini is 34 and Bonucci is 31). That's only two years younger than Manchester United's front-three of Marcus Rashford (20) Romelu Lukaku (25) and Anthonoy Martial (22).
United's front three only managed ONE shot on target between them in the whole game.
Manchester United attempted just six shots, their fewest in a home Champions League game since April 2014 against Bayern Munich (also six).
Chiellini won 100% of his tackles and made seven clearances, the most of anyone on the pitch.