Euro 2020 qualifiers the bigger picture for Scotland - James McFadden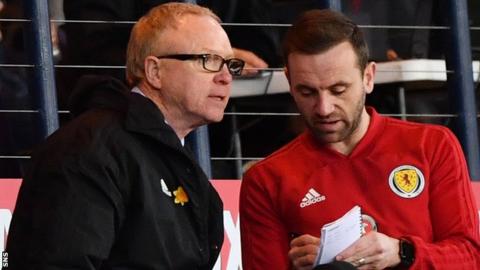 Scotland will win their Nations League group, despite losing to Israel, but the European Championship qualifying campaign is "the bigger picture", says assistant coach James McFadden.
Scotland beat Albania 2-0 but Israel now have a three-point lead over the Scots, who have a game in hand.
McFadden told BBC Radio Scotland' the Nations League is "a free hit".
"Come the qualifying campaign, we want to do enough where we don't need to rely on this."
Alex McLeish's side play Albania away and Israel at home to complete the group campaign next month, with the winner maintaining a chance of reaching Euro 2020 via the new competition.
However, Scotland would only have to rely on that if they are unsuccessful in reaching the finals via the conventional qualifying group, which will begin in 2019. The Scots have not reached a major finals since 1998.
"The two games are massive and we need to win them," said McFadden. "We obviously want to win this - we still believe we're going to win the group. The bigger picture is the actual qualifying campaign.
"We're trying to build a team. We've got young players. Young players make mistakes. We want them to learn. We want them to get better. We want to encourage the young players to go and play. It's very difficult for them to come in and not make mistakes. At the minute, we are being punished for every mistake that we seem to be making."
The headlines before the 2-1 loss in Israel were dominated by Celtic striker Leigh Griffiths' withdrawal from the Scotland to work on his fitness.
And questions over Scotland's formation and how best to accommodate left-backs Andy Robertson and Kieran Tierney prevailed in the post-match analysis, with Tierney playing at left centre-back and Robertson in a wing-back role on the same side.
McFadden insists the Griffiths situation was "very amicable".
And, on the Robertson-Tierney debate, McFadden commented: "When you've got two players who are two of the best left-backs in Europe, you've got to try and find a way to fit them in the side.
"It was fine against Albania, it worked very well. It didn't work against Israel. Players can just have a bad game. It's not always to do with the system. It can happen that so many players don't have a good game and I don't think you can totally blame the system."