Wembley sale collapse: Opposition to stadium deal bizarre - Greg Dyke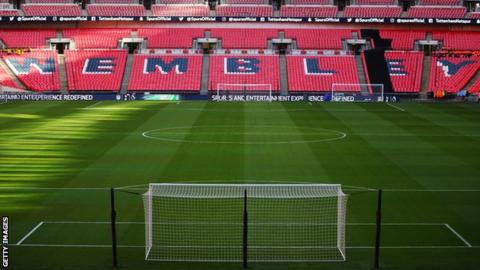 Opposition which caused the £600m sale of Wembley to collapse is "bizarre" and led by "old men", says ex-Football Association chairman Greg Dyke.
Fulham owner Shahid Khan withdrew an offer for the stadium because of a lack of support from FA Council members.
English football's governing body had said it would invest the sale proceeds into improving grassroots facilities.
"The council is living in the past, as it always has done," Dyke told BBC Radio 5 live's Sportsweek.
"If I'd been chairman, I would have said it is the board's decision.
"I don't think the council is equipped to make this decision - that is what the FA board is for."
FA executives made a presentation to the FA Council on why they backed the sale and the 127 members had been due to vote on the issue on 24 October.
However, Khan pulled out on Wednesday after the plan became "divisive".
A senior FA source told BBC Sport that the board believed the odds were slightly against the purchase being backed, given the strong objections of some councillors to the home of English football - owned by the FA since 1999 - being sold off.
"The FA has only owned Wembley for 10 to 15 years, before that it was a private business," said Dyke, who was FA chairman from 2013 to 2016.
"The idea you are going to lose something of value to Britain because it is not owned by the FA is the wrong one compared to spending £600m doing what is desperately needed in this country and that is to spend money on grassroots facilities.
"If you want to have a step change in grassroots facilities in this country you need this sort of money to be spent.
"It's bizarre that the old men of the FA Council have stopped this."
He added: "One of the tragedies of English football in recent years is that all the extra money that has come into the Premier League has by and large gone to players or agents, and not to football generally."
FA Council member and former Premier League chairman Sir Dave Richards was against selling Wembley.
However, he thinks the issue "could come up again" and Khan has not ruled out making another bid in future if there is more support from FA Council members.
"I'm pleased it's not gone through because it belongs to the nation," Richards told Sportsweek. "It's like selling the BBC and Buckingham Palace. It's the heritage of football.
"I think there's a big split between the board and the council."
Richards said the Football Foundation charity is already putting £600m a year into grassroots projects and argued that "it is councils that are failing, not football".
He added: "Do we want to invest in council grounds that in five years' time are going to want us to do it again?
"Have you looked how much the Premier League put in and the clubs put in to different areas? The FA should be very thankful to the Premier League and the British game."
What about Brexit and England winning the 2022 World Cup?
Dyke set England the target of wining the 2022 World Cup in Qatar when he became FA chairman in 2013.
They went out at the group stage of the 2014 tournament but manager Gareth Southgate guided the Three Lions to the semi-finals in Russia this summer.
"It was interesting that when I first said that, Gareth Southgate and [then FA technical director] Dan Ashworth put up a clock in the changing room counting down to when we were going to win it," said Dyke.
"I still think England can win it in 2022."
The United Kingdom has voted to leave the European Union - a process that has become known as Brexit - and, while Dyke says he is not a Brexiteer, he believes it could have benefits for English football.
He added: "The best youth teams - which are Chelsea and Manchester City - nobody gets through to the first team. That is the problem.
"It [Brexit] would allow the FA to say that in your squad you have got to have 10 British players.
"If you did that a lot of these kids that can't get through would actually get the opportunity to do so."