Alfredo Morelos: From Finland's goal machine to Steven Gerrard's Rangers spearhead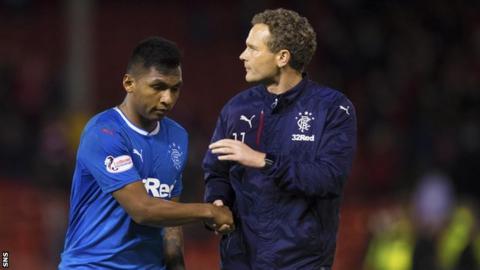 "I went to watch them a lot and Alfredo was the big star in Finland. I saw what he had potential to do."
Prior to the summer of 2017, Alfredo Morelos was a goalscoring phenomenon in the obscure world of Finnish football.
In just over a year at HJK Helsinki, the Colombian striker netted 46 goals in 62 games, including scoring 11 in 12 across his second season.
It was little surprise that suitors would come calling, and, thankfully for Rangers, the eagle eye of Jonatan Johansson spotted his talents.
Now Morelos has reached the same tally of games for the Ibrox club as he did in Finland as his reputation grows, Johansson describes how the Colombian went from being the poster boy of Finnish football to Rangers' top marksman.
'Morelos was different - he caught the eye'
"He was the goal-scorer so I guess you get most headlines," explains the Morton manager, who first became aware of Morelos while working as a coach with the Finnish national side.
"The Finnish league is very different to the Scottish league. It's one of the challenges for a scout going to Finnish football because the tempo is quite slow, it's tactical and it's totally different from here in many ways.
"So when you look at players you have to think, 'how will they fit into the Scottish game?'. They have to be tough, they have to be strong, have character, link the play as a striker.
"In that way Morelos was different from other strikers in Finland as I thought he had all of those attributes. That's why he caught the eye."
'Pedro took to him quite quickly'
The impact Morelos made in Finland was something Johansson kept lurking at the back of his mind whenever the former Rangers forward became part of Pedro Caixinha's backroom staff.
Morelos was brought in as Caixinha was assembling a squad for his first tilt at a full Scottish Premiership campaign.
"A big part of why I felt confident bringing him forward to Pedro at the time was because I knew some of his team-mates and his coaches so I could just phone them," said Johansson.
"At the time it was the end of my first season at Rangers when Pedro came in and he gave me a lot of strikers to have a look at.
"I didn't know them but the profile was for someone who could be the second or third striker that was younger with potential to develop and sell on for a profit.
"Pedro took to him quite quickly."
'All top players have temper'
Since then Morelos has gone from strength to strength, with this season in particular holding a lot of promise for the 22-year-old.
In his first campaign Morelos hit 18 goals under Caixinha and then Graeme Murty. Three months into the current season under Steven Gerrard, his tally already sits at 11, including four in the Europa League.
One constant through his time in Scotland has been his tenacity and at times fiery temperament - he was booked in six of last season's final seven games. It is a characteristic Johansson acknowledges was evident during the forward's time in Finland.
"I knew about his temper and that side of things but if you look at a lot of top players they all have that side as well. Young players maybe have it even more," he said.
"It's something at that time we felt taking a risk on and it's something that he can control.
"Temperament is a good thing as well. You need to have a winning mentality and a temper. Credit to the current management team that they seem to have focused him to channel it in the right way."
'He's been fantastic'
Morelos signed a new deal with Rangers last month, tying him to the Ibrox club until 2022.
Already this season Rangers have rejected £3.75m from Bordeaux for their star striker, and Johansson believes the striker has the work ethic and quality to fulfil the potential he first spotted in the Veikkausliiga.
"I've watched him a few times already and he's been fantastic. It's so pleasing for me to see because he's a really good kid," he said.
"I don't look at prices. Prices are dependent on markets. When he was at HJK I knew there was a clause in his contract that we could get him for a certain amount of money that fitted our profile and budget at the time.
"I hope whenever he does decide to move on Rangers will get a good profit from it."