Benzarti describes his sacking by Tunisia as 'humiliating and insulting'
By Souhail Khmira
For BBC Sport, Tunisia
Last updated on .From the section African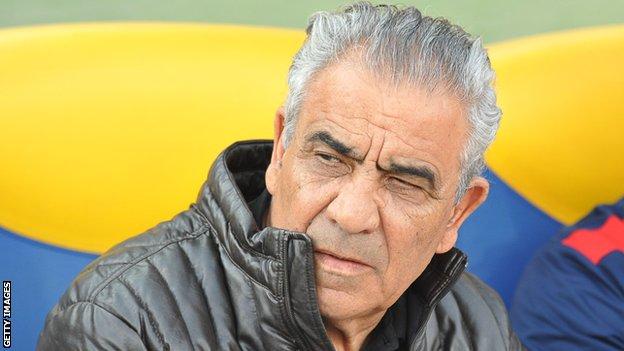 Faouzi Benzarti, who was sacked as Tunisia's head coach on Saturday having just secured the country's qualification for next year's Africa Cup of Nations, has described the decision as "disappointing, humiliating and insulting."
Tunisia's Football Federation made the shock announcement four days after the team's 2-1 win away to Niger which sealed their place at Cameroon 2019.
"I was informed of the news via a phone call," Benzarti told a local news station in Tunisia.
"This is un-dignifying to me and to Tunisian coaches. They would not have done this had it been a foreign coach.
"I gave everything up and came here, answering a call of duty when my country needed me. My results speak for themselves - two wins away and one victory at home. This was uncalled for," Benzarti said.
Tunisia's Federation is yet to explain why it dismissed 68-year-old Benzarti who was only appointed in July 2018 - returning to a post he had filled on three previous occasions.
Benzarti, an experienced coach known for his short temper and passionate demeanour, dismissed speculation he was sacked because of a bad atmosphere within the team and refuted claims of tension between him and the players.
"The atmosphere in the national team was extraordinary and everyone was getting along well - the staff, the players and everyone.
"I only yell to get the players motivated and pumped. That is my approach to handling the group.
"I have never insulted any player, quite the contrary. I always respect the players and make sure that they feel respected and appreciated. You cannot succeed in a team where players hate you or do not get along with you."
Benzarti was brought in to replace Nabil Maaloul who left the post after Tunisia's early exit from the Russia World Cup, and made it three wins out of three in his short reign.
"My results and my titles speak for themselves. It's the third time this has happened to me. Whenever there's trouble in the national team and things aren't going well, they bring me in, to ease people's tension and then get rid of me.
"Wherever I go, I succeed despite all the haters. I am not a toy in their hands and I refuse to be treated that way," Benzarti added.
Tunisia's football officials have said little but Hamed Maghrebi, a spokesperson for the Federation, said more details would be revealed in due course.
"The FA administrative bureau got together to evaluate Mr Benzarti's time as head of the National Team.
"We looked at performance, results, training and the relationship with players. Some of these were flawed but some were good and the details will be announced at a later date," Maghrebi said.
Assistant coaches Mourad Okbi and Maher Kanzari will take the charge of Tunisia's matches in November 2018 with a new coach expected to be announced before their first game of 2019.