Dundee: Billy Dodds understands fans' 'gripe' but 'real bad guys' walked away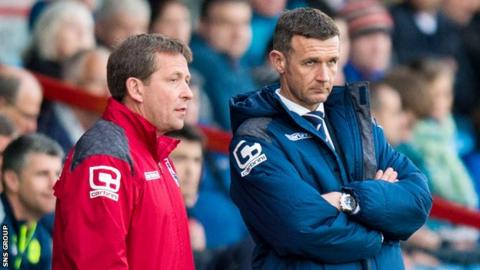 Billy Dodds says Dundee supporters are wrong to think he has a "grudge" against the club as new manager Jim McIntyre seeks an assistant.
The 49-year-old is McIntyre's preferred choice after the pair worked together at Ross County.
But some fans have voiced anger over Dodds' objection to a deal to take the club out of administration in 2011.
"I've no gripe with Dundee fans but they have a gripe with me from before - I get all that," said Dodds.
"But they couldn't be further from the truth if they think I hold a grudge against them and that's why I voted the way I did.
"It's not a case of black and white. What we had to go through, Gordon Chisholm and myself, was incredible.
"When we walked from the club, which is not nice for anybody, there were certain things we felt happened to us that just weren't right.
"The real bad guys just walked into the sunset, never to be seen again. Don't just go for people. Make sure you get the people whose fault it was. That's the way I would leave it."
Dodds had been assistant manager to Chisholm at Dens Park in 2010 before being sacked by administrators just six months after the pair left Queen of the South.
Later, both men voted against a successful Company Voluntary Arrangement.
The former striker, who played for Dundee between 1989 and 1994, had "a great conversation" with managing director John Nelms on Thursday.
But Nelms admitted he would listen to fans, saying: "The club do get involved in this. The fans have made their voice heard, I'm listening to that voice and we're taking all things into consideration.
"They [McIntyre and Dodds] do have a long-standing relationship but there are others in the mix as well."
McIntyre replaced Neil McCann this week, with Dundee bottom of the Premiership after just one win in eight games.
"I expect Dundee to climb the table, just because of what Jim will demand," Dodds told BBC Sportsound.
"He will demand work-rate, he will demand organisation. If the boys meet those standards, I'm sure they will get results."