Wembley sale collapse: What now for grassroots football?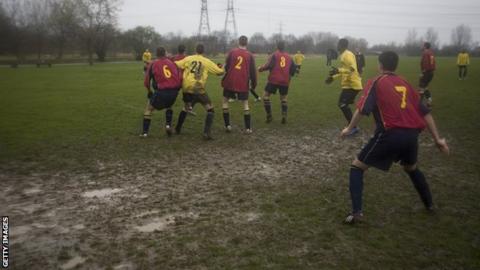 The collapse of the Football Association's proposed sale of Wembley to Shahid Khan has brought the state of grassroots football into sharper focus than ever before, sparking a renewed national debate over who can - and should - pay for better facilities now that the English game has lost out on a windfall worth hundreds of millions of pounds.
Such is the interest in professional football, the issues affecting the community game have traditionally struggled to receive consistent media attention.
But while the Wembley episode seems to have divided the sport, one important bonus of the controversy is that it has put grassroots facilities firmly on the agenda. Whether you regret Khan's withdrawal - or are relieved by it - both sides seem to accept that the relative lack of investment in our community game at a time of unprecedented wealth at the top of the sport is something that needs to be tackled.
This is uncomfortable territory for various stakeholders.
For the FA Council, whose members are being blamed for having let down local league players and volunteers up and down the country by blocking the Khan deal.
For FA chief executive Martin Glenn and chairman Greg Clarke, whose sales pitch failed to achieve the consensus from the football family that they had wanted.
For the Premier League, whose clubs are enjoying the final season of a record £5bn, three-year UK broadcast rights deal.
And for the government - which persuaded the Premier League to double its grassroots investment in 2016 - but whose cuts to local authorities is now under renewed scrutiny.
Amid talk of national action plans and independent commissions, suddenly a range of ideas are being put forward to help the grassroots of the game. Former FA chairman Greg Dyke told The Times the FA should consider borrowing a lump sum against future income from Wembley and TV rights deals.
But others believe the top clubs should be part of the solution.
Dyke's predecessor David Bernstein has proposed a levy on Premier League income.
Former Manchester United defender Gary Neville and the Football Supporters' Federation want a proportion of agents' fees redistributed. Ex-Liverpool defender Jamie Carragher has suggested a 'mini transfer fee' when professional clubs recruit children from local sides into their academies. As part of a new campaign to "Save Our Game", the Daily Telegraph wants revenue from football betting and sponsorship deals to be considered.
"Good luck" was the rather forlorn response of FA chief executive Glenn when asked by the Evening Standard about such proposals following the collapse of the Wembley deal. Despite being the national governing body, the FA clearly has little appetite to try to convince (or force) agents to part with some of their fees, or get the top clubs to contribute any more to community facilities than the £24m a year they currently do.
The Premier League argues that it already supports the wider game in a more generous way than any other league in Europe. Its £24m annual contribution to the Football Foundation - to which it has given £302m over the past 18 years - is part of a wider £100m-per-season investment in community facilities, sports participation programmes and education projects.
However, others counter that this represents around 3.6% of its broadcasting revenue, way less than the minimum of 5% the Premier League apparently agreed with the government's football task force in 1999 would be invested towards the grassroots in return for being allowed by the competition authorities to sell its TV rights collectively.
It is interesting that a long-running petition to impose a 5% levy on the Premier League's broadcasting rights for the grassroots has only managed to muster 28,000 signatures. That is 13,000 fewer than have signed one in the past few days to get Harry Maguire riding an inflatable unicorn as the face of the new £50 note!
Maybe after Wembley, and more exposure of the true state of grassroots facilities, increasing numbers will want to see change.
The Premier League can point to the £3.3bn tax revenue it generates for the public finances each year.
It can mention the extra £100m it gives away each year in the form of solidarity payments to EFL clubs.
And it can ask why it should come to the rescue when (unlike in some European countries ) governments here have allowed local councils to channel sports and leisure funding through discretionary - not mandatory - funds. That is therefore often the first part of their budgets to be cut, especially in a period of austerity.
But at a time when players and their agents are earning more than ever, and the Premier League's overseas broadcasting deals keep on going up, it also knows that whoever replaces supremo Richard Scudamore next year will be under unprecedented pressure from fans, the media and politicians to help find a solution to a crisis that has suddenly become one of the sport's biggest priorities.
There will be many people out there - and not just the many who have to contend with dilapidated grassroots facilities and will have many matches cancelled this winter as a result - desperately hoping Khan one day comes back with a new and improved offer for the national stadium, and if he does, that next time it is accepted.
But in the meantime, such a reprieve cannot be relied upon. Not when two-thirds of grass pitches are inadequate. Not when 150,000 matches were cancelled last season. Not when the number of 11-a-side boys' teams fell by 3,500 between 2012 and 2016.
Perhaps the greatest hope will be that all this finally brings about a realisation that investing in grassroots football is not merely an act of charity, but an essential means of sustainability and future-proofing the game.
Invest in changing rooms and more girls will be encouraged to take up the sport. Have more 3G pitches and there will be more matches, more touches of the ball and better players for the top clubs - and the FA - to one day select from.
And, above all, if more people are playing and involved in the national sport, then a healthier and more active nation that alleviates some of the pressure on our health service should be the result.
It seems a prize worth all sides of the Wembley debate coming together for.