Stephen Dobbie: Scotland call-up 'maybe not best option' for Alex McLeish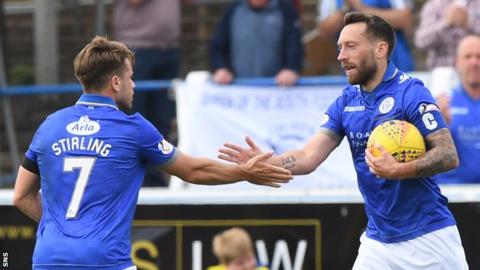 Stephen Dobbie thinks it is unrealistic to expect a "dream" Scotland call-up despite the veteran striker remaining Europe's top marksman this season.
Dobbie has scored 24 times in 16 appearances for Queen of the South.
And it has led to a clamour on social media from fans urging Alex McLeish to hand the 35-year-old a first cap.
"For Alex McLeish to bring someone in from the Championship would maybe not be the best option - especially at my age," Dobbie told Sportsound.
BBC Scotland last month highlighted statistics showing that Dobbie had a strike rate better than Paris St-Germain's Kylian Mbappe, Bayern Munich's Robert Lewandowski, Barcelona's Lionel Messi and Chelsea's Eden Hazard.
"I think they're playing a different game from what I'm playing," he said while admitting it "would have been a dream" to play for Scotland.
'No point' in playing in Premiership
Dobbie has played in the top flight in Scotland and England during a career that has taken him from Rangers to Hibernian, St Johnstone, Dumbarton, Swansea City, Blackpool, Brighton & Hove Albion, Crystal Palace, Fleetwood Town and Bolton Wanderers before his current second spell at Palmerston Park.
Celtic manager Brendan Rodgers, who was his manager with Swansea, is among those who, in recent weeks, have suggested that Dobbie could still be playing in the top flight.
"I've done it before," he said. "But to go somewhere where I might not be 100% happy with football life and family life, there's no point."
Dumfries is handy for commuting, with Dobbie still living in northern England, where he last played under Neil Lennon.
"It came about because I was at Bolton under Lenny and I wasn't really playing as much as I would have liked," he said.
"I was nearly 33 at the time and I kind of thought to myself 'what's the point? Why play for a team where I might play one game and not the next?'.
"I got the chance to go back to Queen of the South - the club that gave me the springboard to my career.
"I went for a year and just started loving it again and it's just kicked on from there."
Dobbie admits there were times when he relied on his eye for goal rather than hard work.
"When I was a bit younger, it was one of the reasons why I didn't get myself fit because I was still scoring goals," he added.
"I had gone to Dumbarton and saw the part-time players coming in from their work and I thought I had to give myself a shock because I believed I could play higher.
"In my last season with Queen of the South I managed to get myself 24 goals and ended up getting a move to Swansea, so it was well worth all the work I put in."
'No doubt' Dobbie could play for Scotland - analysis
St Mirren chief executive Tony Fitzpatrick
"I've seen Stephen quite a bit and he's one of the best finishers I've ever witnessed in the game and I've been in the game a long time.
"I know people talk about this age thing, but why not where Scotland are the now in these important games coming up? There's no doubt he can play at that level."