Joe Hart: Burnley goalkeeper has nothing to prove against Man City, says Sean Dyche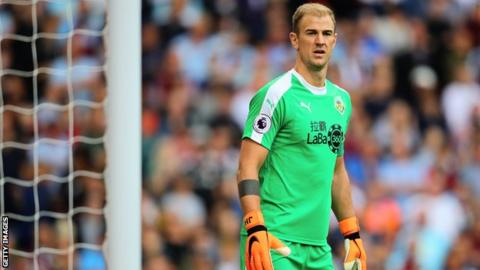 Joe Hart has "nothing to prove" when he returns to Manchester City as an opponent for the first time on Saturday, says Burnley boss Sean Dyche.
The goalkeeper won two Premier League titles, an FA Cup and two League Cups in 10 years at City.
However, Hart, 31, was allowed to leave on loan by Pep Guardiola, spending seasons at Torino and West Ham before joining Burnley in a permanent deal.
"He has no point to prove," said Dyche. "He just wants to get on with it."
By Hart's own admission, those spells with Torino and West Ham were not a success.
Since a summer move, he has rediscovered his form at Turf Moor, where he is an ever-present in the Premier League, even though he was only signed in the first instance due to the injuries suffered by England duo Nick Pope and Tom Heaton.
Dyche added: "I was pretty sure he was still a top-class keeper. There can be different reasons why you play well at some places and not others. Sometimes you just fit naturally. You can sense it.
"For keepers, sometimes what is in front of you helps. He wants a defensive unit he has faith with. I think there is a nice connection here. Possibly at other clubs he didn't find that connection.
"But a lot of credit goes to him for finding his way again."
Although he is still some way from full fitness after dislocating his shoulder during a Europa League qualifier against Aberdeen in July, Dyche said Pope is "on the grass again" after stepping up his comeback.
It places even more weight behind Heaton's public admission he may need to look elsewhere after recovering from his own injury troubles to find himself playing second choice to Hart.
Dyche said: "I thought Tom spoke very well. He knows he has a future here. It is how he feels about that. Whatever needs to be worked out, will be worked out."
The manager also confirmed Burnley are considering bringing in a sporting or technical director but no appointment is imminent.