Harrogate boss Simon Weaver on trying to put the town on the sporting map
Last updated on .From the section Harrogate Town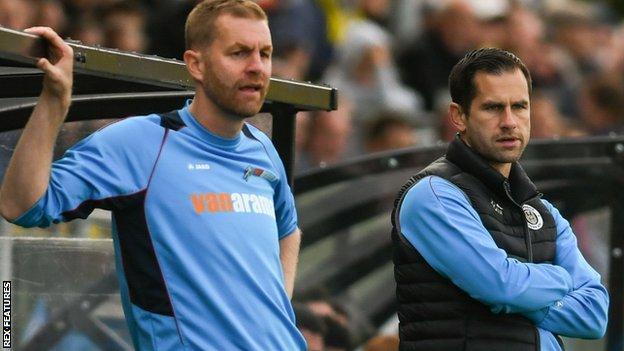 "All we had was nine very average footballs in the cupboard. It was a baptism of fire."
Simon Weaver did not have the easiest of introductions to management when he took over as Harrogate Town boss in May 2009.
Almost 10 years on, the North Yorkshire side are now fighting at the top end of the National League, looking to win promotion to the Football League for the first time in their 104-year history.
A far cry from nine years ago when a then 31-year-old Weaver took a leap into the unknown.
"I'd just won promotion with Ilkeston and I'd actually scored the winner in the play-off final so I picked up the Non-League Paper to read about it and saw an advert in there to be the manager of Harrogate Town," he told BBC Sport.
"I'd had some bad injuries, I knew my playing days were limited and I lived nearby so I thought I'd apply for the role for some experience. The rest is history."
He added: "I was very wet behind the ears and naive to budgets. There were only two players contracted to the club and I couldn't really convince them to stay.
"We were training on a dimly lit car park and I had to beg, steal and borrow to get through. It was a real scrap."
Town finished bottom of the Conference North in Weaver's first season, only avoiding relegation because Northwich Victoria were demoted for financial irregularities.
But the former Lincoln defender was undeterred and led the club to a mid-table position the following season.
'Working for dad could have been horrendous'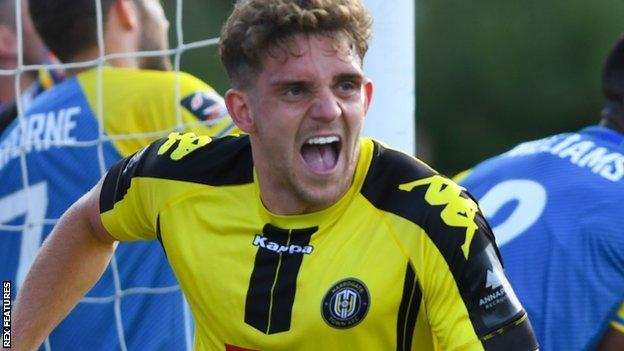 Despite improved performances, chairman Bill Fotherby decided after that second season that he was no longer willing to fund the club.
Facing a possible double-demotion they needed someone to come in and save them. Step forward businessman Irving Weaver.
Multi-millionaire Irving had made his money in property. He also happened to be the manager's dad.
Despite initial trepidation it has proved to be a fruitful partnership, with the club going professional in 2017 and winning promotion from National League North last season.
"I've got a good, strong bond with my dad so I did think 'what's going to happen if we lose six on the bounce?' A lot of emotions were going through my head, including thinking that I was going to get a lot of stick. And I did," Weaver said.
"There wasn't much to sell the club when my dad came in, we still had such limited facilities. Even our own fans were questioning it and I could understand it, if we got it wrong it would have been horrendous.
"We care about bringing the club on and the club is run on values, I think that's played as much a part as anything in the club growing.
"The sun seems to shine a bit more now and you see people in the town wearing our shirt."
Spa waters, tea rooms and sport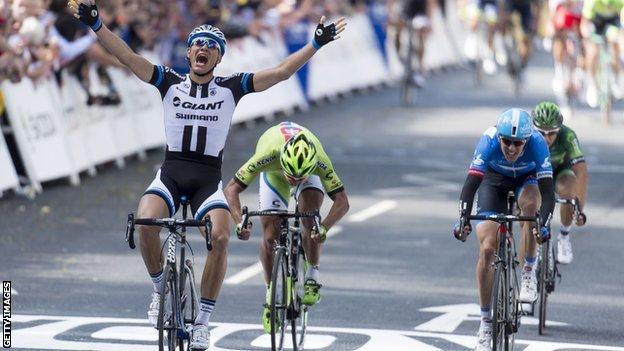 Unsurprisingly given the club's modest achievements in the area, Harrogate is not synonymous with football.
An affluent spa town just over 20 miles from York it's best known for tea rooms, flower shows and, in 2015, being voted the happiest place to live in Britain.
Not that Weaver thinks that has helped his cause in the past.
"People from the outside looking in at Harrogate would maybe have had one perception of the club because of the area, but once they saw what we were working with they soon changed their mind," he said.
"There was an idea that this wasn't a footballing town and people scoffed when I said we needed to get about 700/750 people to come to games but we're up at between 1,600 and 1,800 this season.
"Instead of being embarrassed about a small football set-up in a lovely area people are proud of it."
It's not just football where the town is looking to forge a new reputation.
Next year the town will host cycling's Road World Championships, having previously been a finishing stage in the 2014 Tour de France Grand Depart.
"It puts a sporting mark on the area and we want people to know Harrogate not just for nice coffee shops and being a nice place, which it is, we want people to think it is a powerful place for sport too," Weaver added. "We want to play our part in that."
Bumping into the England manager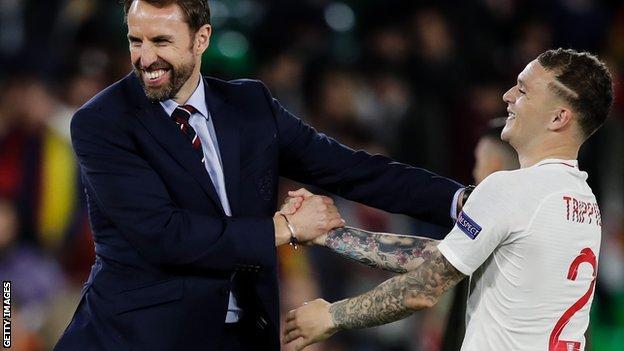 Despite only being 40, Weaver is the second longest-serving manager in the top five divisions behind Sutton's Paul Doswell.
His side sit fourth in the National League, one point off big-spending leaders Salford City, and Weaver looks at the success other smaller clubs like Lincoln City and Accrington Stanley have enjoyed in recent years for a blueprint for how Harrogate could continue their own upward trend.
"I used to play for Lincoln and we had a great team spirit and they've definitely got that about them now," he said.
"You've got to dream big and not put a ceiling on your ambitions. You look at Lincoln and Accrington and they've done it without spending much money and I'd dearly love to be part of something that goes into the Football League.
"We kept 14 of the players that helped us get promoted last season and people said that we hadn't made enough signings. I had to prove to the players that I wasn't going to rip up what we had last season and it's gone even better than I thought.
"We're happy to be under the radar but obviously we're attracting a bit more attention now!"
That attention has even seen him bend the ear of the England manager, albeit away from the pitch.
"Gareth Southgate lives in Harrogate. I saw him in a shop in town the other day and we were talking for 25 minutes," Weaver said. "He's such a lovely guy. The anti-ego way he goes about things is something that we're looking to do too.
"He was asking me about how things were going here. It was great to think that people at that level were aware of what we're doing.
"My team had just got a last-ditch equaliser against Dover and he was talking about hanging on for a 3-2 win over Spain. It's still the same thrill and hopefully I'll be doing it for many more years to come."