Uefa Nations League: Glorified friendlies or a successful innovation?
Last updated on .From the section European Football132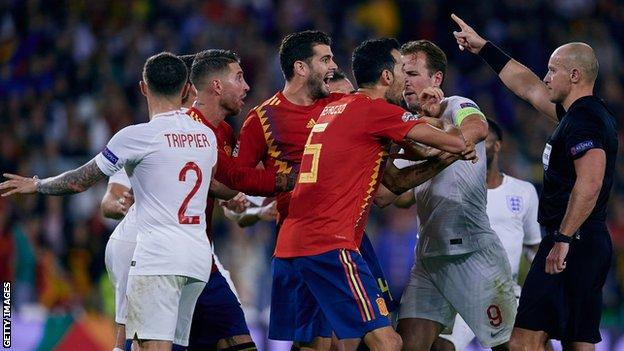 Liverpool manager Jurgen Klopp described it as "the most senseless competition in the world of football".
But the Nations League has already produced plenty of memorable moments - England hanging on for a 3-2 victory in Spain in an intense finale, Gibraltar winning competitive fixtures for the first time and even the Netherlands re-emerging as a force in a group containing France and Germany.
So has Uefa's new international tournament been a success? Or have initial fears that it was too confusing and would fail to eradicate "meaningless" friendlies been realised?
Has it replaced the 'meaningless' friendly?
The Nations League certainly increases the stakes in the shape of promotion, relegation and a trophy at the end for the winner.
Anyone watching England defend against a Spanish onslaught in injury time in Seville last month would struggle to suggest it has not added a degree of competition so often lacking from friendlies.
For the Three Lions, there remains the prospect of entering the play-off to win the Nations League - an achievement which would represent their first significant international trophy since the 1966 World Cup.
At the other end of the competition, it also gives some of Europe's minnows the chance to reach Euro 2020 (more on that later).
"I do like this format," former Scotland winger Pat Nevin told BBC Radio 5 live. "It was always going to be a hard sell because of the complexity but actually it is completely and utterly logical."
Of course, it has not been the end of the international friendly.
Countries are still opting to play them, in particular those in groups comprising three competitors, thus meaning they have a vacant window for a fixture in two of three allotted weeks for Nations League games.
In September, England hosted Switzerland in a friendly at King Power Stadium and will face United States at Wembley on 15 November, three days before their final Nations League game with Croatia.
But there are certainly fewer of them. In the November international break last year, there were 37 friendlies featuring European teams. This month, that figure has dropped to 12.
"It has been a success," Burnley and England goalkeeper Tom Heaton told BBC Radio 5 live. "It's added a competitive nature. There's more interest than in the friendly games and all the teams playing competitive games against teams around their level has worked."
But what do you think?
If you are viewing this page on the BBC News app please click here to vote.
Is the Nations League bad news for clubs?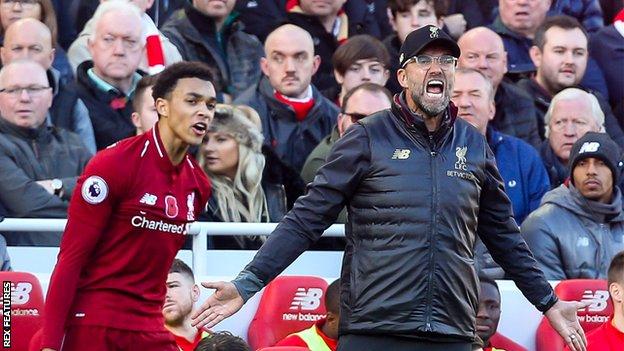 While fans have long lamented the lack of competitive edge in friendlies, for club managers there are other factors to consider.
Klopp has been the Nations League's most outspoken critic, comparing it to world heavyweight boxer Anthony Joshua having to fight "every second night".
"Only in football everyone wants big competitions where you can get relegated, promoted, playing for something," said the Liverpool manager.
"The Nations League is a good idea but do it in another sport because in football there is no space for it. I realise that I could have told my coffee machine because nobody is really interested [in my opinion]."
Several Liverpool players were injured in the last international break but none of those issues arose from Nations League games.
Mohamed Salah and Naby Keita sustained muscle injuries in Africa Cup of Nations qualifiers, and Sadio Mane broke a thumb training with Senegal.
But a look at the data tells us that Klopp does have a point about increased workload for senior players.
Analysis of the England squad shows that first-choice players are shouldering a greater burden since the Nations League's introduction.
England manager Gareth Southgate used only 17 players across the two Nations League fixtures in October - that is fewer than during any friendly double-header this decade.
In fact, more players (six) featured for the full 180 minutes last month than in the rest of those friendly double-headers this decade combined (three).
Jordan Pickford, Ben Chilwell, Harry Maguire, Eric Dier, Harry Kane and Marcus Rashford played every minute of the last Nations League games. John Stones, Maguire and Dier were the only ones to do so against Germany and Brazil last year, while none did in the previous three sets of friendlies.
As a result of this, the average number of minutes played by England internationals has increased.
Judging by Southgate's words between the two Nations League games in October, this situation is going to become the norm.
"We want to be as competitive as we can in every game," he said. "In these games we had to pick a team that represented the country in the way we should.
"When we can help with the clubs we do. We make sure the training load is right so we don't overburden the clubs with that and around the friendlies we can be a bit more sensible but for these two games it's a lot more difficult. We don't have the squad."
An 'inspiration' for some of Europe's smaller nations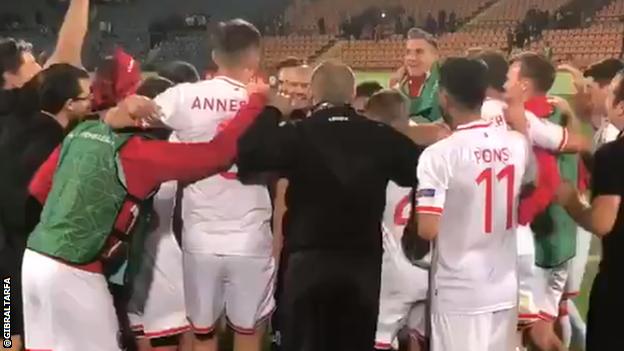 For Europe's lowest-ranked teams - the likes of Georgia, Luxembourg, Kosovo and Macedonia - international football has long been something of a treadmill, with one heavy defeat soon followed by another.
But those four teams are top of their groups in the Nations League's fourth tier. As it stands, they are the sides who will progress to a Euro 2020 play-off, with one of them securing their place at the competition. It is unlikely any would have even been in contention to make it through the traditional qualifying process.
"When you've looked at some of the qualifying campaigns we've seen previously, when San Marino and Liechtenstein park the bus and there's a cheer when they get out of their half, that does those teams no good," said former England defender Danny Mills on BBC Radio 5 live.
"Now teams can show some attacking prowess and try different things. They can make progress. It has worked and it is now competitive."
One team for whom it has certainly worked is Gibraltar.
Their first competitive fixture came in 2014 as they featured in qualification for Euro 2016.
But it was a chastening experience - their first two matches ended in 7-0 defeats by Poland and the Republic of Ireland, and a third 7-0 defeat later in the group, this time to Germany, was followed by an 8-1 thrashing by Poland and a 6-0 home loss to Scotland.
They would go on to lose every match in qualifying for the 2018 World Cup, taking their run to 22 straight defeats in competitive games.
But the Nations League has changed all that. After losses to Macedonia and Liechtenstein, October's double-header saw them record the first competitive wins in their history, in back-to-back games against Armenia and Liechtenstein.
Remarkably, it is not beyond the realms of possibility that they could qualify for Euro 2020 via the Nations League play-offs.
Gibraltar striker Lee Casciaro, who works as a policeman in the country's Ministry of Defence, told BBC Radio 5 live's Football Daily: "You want to play against big nations - that's a dream for any kid that plays football. But playing against nations lower down the ranking does help you to improve.
"We are still learning. We will see when the Euro 2020 qualifiers start in March what impact it has had. The Nations League is going to be easier for us because we're competing against teams at our level so it is important for us, the minnows. I don't know what most managers think of it but it has been an inspiration for us."