Kyle Lafferty: Kenny Miller questions who wins after Irish FA invoke five-day rule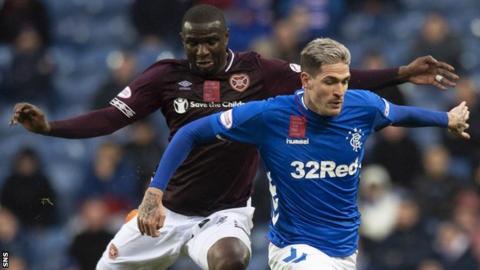 Nobody benefits from the Irish FA's decision to block Kyle Lafferty playing for Rangers, says his former Ibrox team-mate Kenny Miller.
The IFA invoked Fifa's five-day rule after Lafferty, 31, withdrew from the squad to face Nations League opponents Austria and Bosnia-Herzegovina.
The Northern Ireland striker will now be unavailable for Rangers' Premiership match against Hamilton on Sunday.
"I just don't see who the winner is," said former Scotland forward Miller.
Speaking on BBC Radio Scotland's Sportsound, he added: "It's a strange situation for both the player and the FA. They're ruling Kyle out from playing at the weekend, which is clearly going to anger Kyle.
"I can understand they may be a little bit disappointed in the call-off and maybe in the timing of the call-off and the reasons given. Kyle did say there's been an injury and ongoing problem."
Lafferty told Michael O'Neill that he had an Achilles injury but, speaking before the match with Austria in Vienna, the Northern Ireland boss indicated that he would be pursuing the matter.
Clyde's former Dundee United and Hibernian midfielder John Rankin questioned the IFA's approach, too.
"If he's not turned up or the Irish FA haven't demanded he went over to Ireland and been assessed by the FA, how do they know what physical state he was in?" said the former PFA Scotland chairman.
"The last Rangers game was against Hearts [on 5 October]. Two weeks later is their game at Hamilton. How can they say that those 14 days isn't enough time for Kyle to recover if they haven't assessed him?"
'International players don't get paid' - analysis
Former Scotland captain Stephen McManus on Sportsound
At international level, the doctors and the physios do not want to take any chances whatsover with players because they don't want to upset anybody back at the clubs.
International players don't get paid, they go there because they want to go so nobody can ever force anybody to go. It's up to the individual and how passionate he is towards representing his country.
Kyle Lafferty's an important player for Northern Ireland. He scores goals in big games, he has done all the way through his career.