Harry Maguire, a unicorn and a petition to get them on the new £50 note
Last updated on .From the section Football252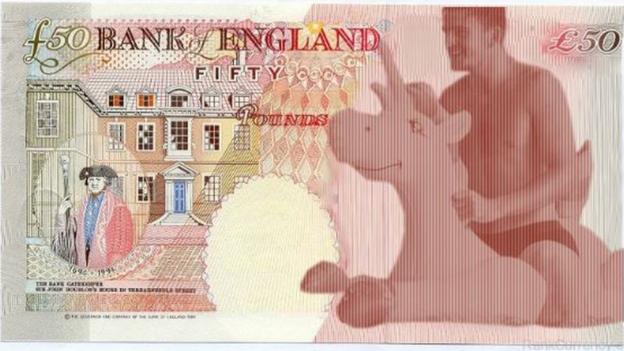 Could Harry Maguire really be the face of the new £50 note?
England defender Kyle Walker has now joined the push for international team-mate Maguire to feature on the new design - while riding an inflatable unicorn.
Created by Jonny Sharples, the petition has already gained more than 15,000 signatures.
Sharples told BBC Radio 5 live that it would be recognition for England reaching the World Cup semi-finals in the summer.
He hopes Maguire's representation of "core British values - bravery, strength, and a big head", will persuade the Bank of England to seriously consider his suggestion.
"Make it happen England!" Manchester City's Walker tweeted. "A bigger amount needs a bigger head".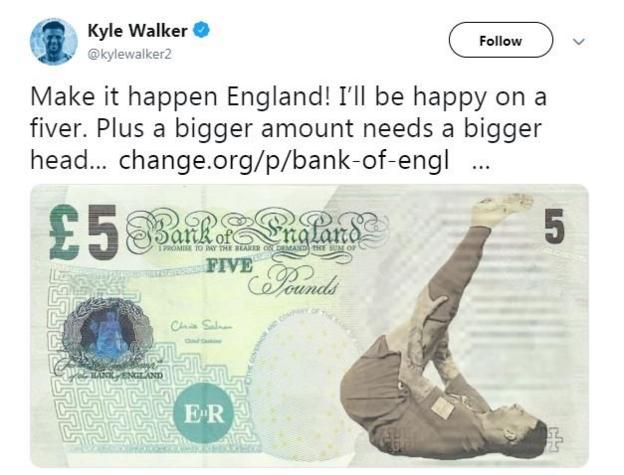 Leicester defender Maguire replied to the tweet and Sharples said he was "shocked" the England players had got involved.
"Hopefully more of them will share it and it will get a lot more signatures," he added.
Maguire was pictured riding the inflatable unicorn in a swimming pool while the England squad relaxed at the World Cup in Russia.
The Bank of England is redesigning the £50 note and has a committee which asks for public nominations in a chosen field.
Sadly for Sharples, and Maguire, it seems unlikely that the centre-back will feature on the note - the Bank of England states that it avoids "fictional characters, or people who are still living (except the monarch on the front of the note)".
A separate petition for former Prime Minister Margaret Thatcher, who died in 2013, has about 11,000 signatures.
Steam engine pioneers James Watt and Matthew Boulton appear on the current £50, issued in 2011.