Jamal Lewis: Norwich City left-back wins EFL Young Player of the Month award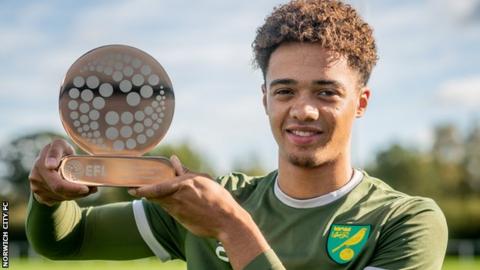 "We face big financial challenges if we don't get promoted this season."
Many Norwich City fans were concerned about that admission by chairman Ed Balls last November, with the club's parachute payments coming to an end following relegation from the Premier League in 2016.
The Canaries did not go up in 2017-18 and sold Alex Pritchard, Josh Murphy and James Maddison for a combined fee of more than £40m to plug the financial gap.
But out of adversity comes opportunity and in the past 10 months three academy players have made Championship debuts and become Norwich regulars, including left-back Jamal Lewis.
He has already scored against Chelsea, become an international for Northern Ireland and signed a new five-year deal, and the 20-year-old can now add the English Football League's Young Player of the Month award for September to his ever-growing list of achievements in 2018.
BBC Sport documents a breakthrough year for Lewis and how Norwich's belief in youth is bringing rewards.
Gaining trust over time
When Lewis arrived from Luton in the summer of 2014, aged 16, Norwich had just been relegated from the top flight.
While the first team and academy are now closely-knit at the club's new-look Colney training ground, the link was not as evident at a time when the intense pressure of either remaining in, or returning to, the Premier League took priority.
"It's a world of difference. When I first came the first team felt like a million miles away," Lewis said.
"I feel like now the younger lads can really look up and see the first team. That bridge has maybe been brought forward a little bit, and gives them a better goal to aim for."
Norwich, by their own admission, did not use their Premier League millions to invest heavily in youth facilities, so earlier this year went to supporters and board members to raise the £5m needed to build a new academy.
That, coupled with having a head coach in Daniel Farke who has a brief and desire to play talented youngsters, is leading to several homegrown players making their mark.
"It's just trust - I feel like if you're good enough here the boss will put you in," said Lewis.
"He shows the trust and if you repay him he'll keep you in and you can keep kicking on with the team."
Running for England, football for Northern Ireland
Luton-born Lewis qualifies to play for Northern Ireland through his Belfast-born mother, but as a schoolboy he was competing in a different discipline for a different nation.
Until he joined Norwich, he was a talented 800m runner, representing England at cross country in his age-group, and that athletic prowess enables him to get up and down the pitch.
"It kept me disciplined. When I wasn't running I was playing football, and when I wasn't playing football I was running," Lewis said.
He has five caps so far and started in the Nations League defeats in Austria and Bosnia over October's international break, facing the likes of Marko Arnautovic and Edin Dzeko.
An unfortunate slip led to a goal for the home side in Sarajevo, but Lewis has shown the mental strength to recover from a bump in an otherwise excellent year.
"As a defender these things happen - it's a huge honour playing for my country so I don't want to make a mistake and cause a goal," he said.
"Maybe earlier on in my career that might've affected me, but in the game I just had to sweep it under the rug and kick on.
"We're learning, I'm learning and it's really good to learn at a top level, playing against world-class players."
'Forceful' Delia sets the tone
Academy manager Steve Weaver joined Norwich last year, when youth team matches were frequently being postponed because of what he calls "poor infrastructure", including pitches with no drainage.
Significant investment has helped the club keep its category one academy status, with celebrity chef and joint majority shareholder Delia Smith among those demanding players come through the system.
"It's life-changing - you can get the feeling amongst the players and parents that this is going to make a huge difference to us," Weaver told BBC Look East.
"In my first week I met Delia and some of the board members and they were so forceful in the fact that we need young players coming through."
Weaver is coy when asked how far Lewis can go in the game, but says he is doing everything right.
"He seems level headed - his future's down to him, if he continues to work hard then hopefully he'll get the breaks he deserves," he adds.
"I see an awful lot of lads with a lot of talent who don't necessarily use it. I think he's maximising everything he's got."
Can kids guide Canaries back to big time?
Norwich are ninth in a congested Championship top-half.
They may now lack the financial clout of some of their rivals, but believe they have something more important.
With Max Aarons (18), Todd Cantwell (20) and Ben Godfrey (20) joining Lewis in making the step up from academy to first team, there is a contagious energy around Carrow Road.
"It's good to train and have a laugh with your friends at the same time. I've played with these guys for quite a few years now so it makes these moments a little bit more special," Lewis said.
"If you've got the ability and you work hard you always give yourself a chance - at some clubs even if you do that you might not get your opportunity."
But what can the Canaries achieve this season?
"I think we can get play-offs. I feel like this year we're playing with a bit more tempo, creating more chances and we're slightly more solid.
"This time last year we had a little bit of a dip - I don't think that'll happen again. I think we'll stay consistent and we can really kick on."