John Terry: Ex-Chelsea captain says Villa coaching role is a 'new chapter'
Last updated on .From the section Aston Villa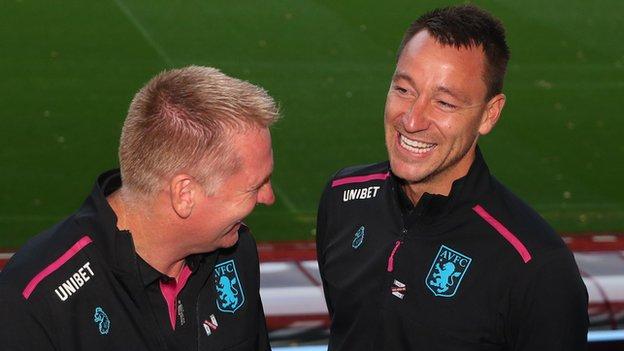 Former England and Chelsea captain John Terry says he is several years away from becoming a manager.
And he also insists he is intimidated at the prospect of working as Dean Smith's assistant at Aston Villa rather than Smith being intimidated by him.
"I have aspirations to be a manager one day," said Terry, 37. "But that is in four or five years - I'm nowhere near the finished article.
"If anything it is more intimidating for me. I want to learn from him."
Terry announced his retirement from playing on 7 October and was confirmed in his new role alongside former Walsall and Brentford boss Smith, a lifelong Villa fan, at the Championship club three days later.
"As far as playing is concerned, that is done - that is my previous life," explained Terry.
"This is a new chapter for me and something I am really looking forward to."
'My first day was a real eye-opener'
Terry spent the final season of an illustrious playing career - in which he won five Premier League titles, five FA Cups and 78 England caps - at Aston Villa.
He was also captain of the Chelsea squad that won the Champions League and Europa League, although he did not play in either final.
The former defender was linked with the manager's job at Villa Park following the dismissal of Steve Bruce, and was also suggested as a potential assistant for the likes of Thierry Henry and Rui Faria before accepting Smith's offer to return to the Midlands.
He said: "I have a history with Dean. He used to be assistant manager at Leyton Orient when my brother [Paul] was playing there. I have known him for an awfully long time."
Former team-mates Frank Lampard and Steven Gerrard have both become managers this season, at Derby and Rangers respectively, but Terry said he is only just starting to learn what the job requires.
"Even my first day was a real eye-opener for me - as a player you don't realise the depth and the amount of work that goes on," he said.
"You turn up as a player and get on with the session. Yesterday we were going through it for an hour beforehand, and then another hour and a half afterwards."
The John Terry philosophy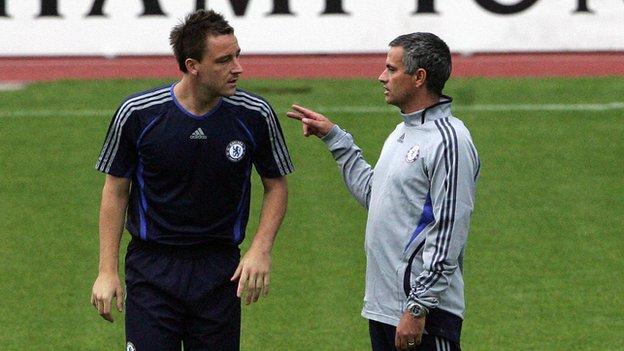 Jose Mourinho, Carlo Ancelotti, Antonio Conte and Fabio Capello are just four of the high-profile managers Terry has played for.
Few can match the wealth of knowledge he has gained from working so closely with such diverse figures.
A banner in honour of Terry at Stamford Bridge proclaimed him as 'Captain, Leader, Legend' and his reputation was as an inspirational captain and fearless defender who was ferocious in the tackle.
Asked what philosophy he will take into management, Terry said: "Firstly, I love to watch teams that win.
"I am still building my ideas and my philosophy. I have learned over the years from many great managers - I am a sponge and I am keen to learn from him [Smith] and [assistant] Richard O'Kelly.
"Look at Brentford's style of play. Take Wolves and Fulham away and Brentford were probably the best footballing side in the league last season.
"The gaffer has a real identity. I will be there and keen to follow and assist as and when I can."
Premier League aspiration
Terry spent nearly 90 minutes talking over his proposed role with Smith last week before deciding to accept.
Prior to that, he says his plan for the season had been to gain experience by continuing to work with Chelsea's youth players a couple of days a week.
A few old colleagues have already been in touch to tell Terry he has "gone over to the dark side", and congratulating him on getting a "proper" job.
He said: "This is something I have had in the back of my mind for the last four or five years as being what I wanted to do when I finished playing.
"Having played here, with the experience I have here and the affiliation with the fans, it was the right choice.
"I had the disappointment of not getting us up [from the Championship], so I just hope I can add a small bit to this group and the management team to try and get us up to the Premier League."
A lesson learned
It did not take Terry long to discover his status as an illustrious ex-player offers no insulation against becoming the butt of training ground banter should the opportunity arise.
He did not give a thought to what he was wearing when he stepped out for the first time to help coach Villa's first-team squad at their Bodymoor Heath complex on Monday.
That turned out to be a mistake.
He said: "I got a bit of stick because I was wearing white boots. The lads, the gaffer, everyone gave it to me. I had to come over to the coaching staff and put a pair of black boots on."