Ricoh Arena: Court of Appeal rejects Coventry City owners' judicial review bid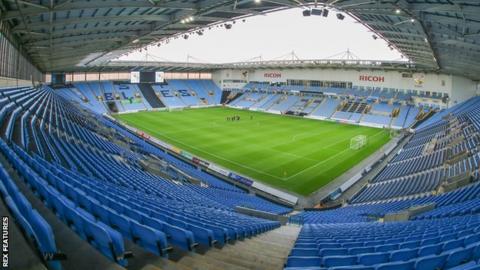 The Court of Appeal has rejected a call for a judicial review into the sale of the Ricoh Arena.
Coventry City's owners Sisu claimed Coventry City Council undervalued the stadium by £27m when it was sold to Premiership rugby club Wasps in 2014.
But the appeal court turned down Sisu's request, which had already been rejected at a prior hearing.
On Thursday Coventry said they wanted fresh talks about extending their stay at the 32,000 capacity stadium.
The Sky Blues, who won promotion to League One last season, only have a deal to play at the stadium until the end of this campaign.
"We are delighted with today's judgment which once again justifies why we have robustly defended all claims brought by Sisu-related companies over recent years," said a council statement.
"Sisu has continually sought to re-open decisions taken by the council more than four years ago.
"We have always remained steadfast in our belief that those decisions were appropriate, lawful and in the best interests of Coventry tax payers.
"We hope that this will be the last stage of the litigation and that Sisu will accept this as the end of all legal action so that further unnecessary costs are avoided for all parties involved."
'Enough is enough'
City supporters have been unhappy with how London-based hedge fund Sisu have run the club in recent years.
The Sky Blues spent the 2013-14 season playing 34 miles away at Northampton Town's Sixfields Stadium after Sisu failed to negotiate a new lease at the Ricoh.
They eventually returned in September 2014, but were relegated to the fourth tier of English football for the first time in 59 years in 2017.
Sisu could appeal to the Supreme Court, but David Johnson from Coventry City supporters group Jimmy Hill Way, hopes they will end their legal claims.
"I'm really hoping now that Sisu and all the parties on their side of the argument, which regrettably includes the football club under its legal entity of Otium Entertainment, will conclude that enough is enough," he said.
"It's deeply concerning for all supporters. There is no alternative for the club than to play at the Ricoh, so if we can't get a deal done it effectively spells the death knell for Coventry City, so I'm deeply worried about it.
"I'm pleading with all concerned to say enough is enough, please stop this now while we still have a chance of our club continuing into the long term future."
City still hope to extend Ricoh tenancy
Coventry City released a statement acknowledging the court's decision, and outlining their ambition to arrange a new tenancy at the Ricoh Arena.
"Coventry City Football Club reaffirms its intention to play at the Ricoh Arena beyond the end of this season and to work with the stadium owners Wasps to achieve a deal to make this happen, securing the immediate future of the club.
"As has been stated previously, the football club and its staff continue to fully focus on the day-to-day running of the club, and we have no direct involvement in the court case.
"The club can also confirm again that we are not liable for any costs in relation to this court case, and that all costs are incurred by the club's owners."