Premier League Christmas fixtures: TV matches announced for festive period
Last updated on .From the section Premier League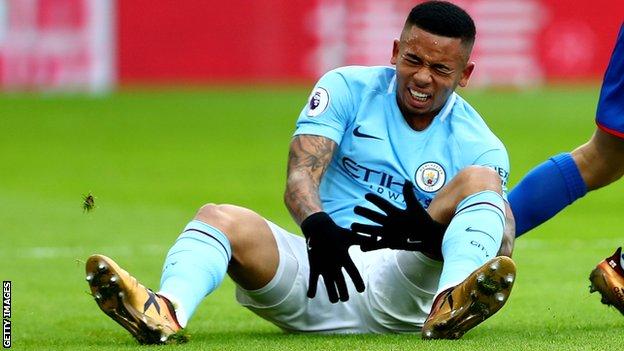 Premier League teams will have one more day's rest in this year's festive period than they had in 2017, but will all still play four games in two weeks.
Manchester City boss Pep Guardiola said last season the schedule would "kill players" after they faced Watford 48 hours after a New Year's Eve game.
There were no fixtures on 24, 25 and 29 December in 2017. This year 24, 25, 28 and 31 December have been left blank.
City will have had a day's less rest than Liverpool before the teams meet.
Their match at Etihad Stadium will now take place on 3 January at 20:00 GMT.
Jurgen Klopp's team host Newcastle on 26 December and Arsenal on 29 December. City, meanwhile, have trips to Leicester on 26 December and Southampton on 30 December.
That means Liverpool have four days' rest before the title rivals face each other, while City have three.
Manchester United get only two days' rest between their home game against Bournemouth on 30 December and their trip to Newcastle on 2 January.
Tottenham are the only team in the top five to play on both 23 December and 26 December.
Fans of promoted Wolves face an early start to watch their team's game at Fulham on 26 December as it kicks off at 12:30 GMT.
Southampton and West Ham are the only teams who will not play on 26 December, with their game shifted to 27 December at 19:45 GMT.
Full rearranged festive TV fixtures
All times GMT
Friday, 21 December: Wolves v Liverpool (20:00) - live on Sky Sports
Saturday, 22 December: Arsenal v Burnley (12:30) - live on Sky Sports; Cardiff v Man Utd (17:30) - live on BT Sport
Sunday, 23 December: Everton v Tottenham (16:00) - live on Sky Sports
Wednesday, 26 December: Fulham v Wolves (12:30); Brighton v Arsenal (17:15); Watford v Chelsea (19:30) - all three matches live on Sky Sports
Thursday, 27 December: Southampton v West Ham (19:45) - live on Sky Sports
Saturday, 29 December: Liverpool v Arsenal (17:30) - live on BT Sport
Sunday, 30 December: Crystal Palace v Chelsea (12:00) live on Sky Sports; Burnley v West Ham (14:15); Southampton v Man City (14:15) - live on Sky Sports; Man Utd v Bournemouth (16:30) - live on Sky Sports
Tuesday, 1 January: Everton v Leicester (12:30) - live on Sky Sports; Cardiff v Tottenham (17:30) - live on Sky Sports
Wednesday, 2 January: Bournemouth v Watford (19:45); Chelsea v Southampton (19:45); Huddersfield v Burnley (19:45); Newcastle v Man Utd (20:00) - live on Sky Sports; West Ham v Brighton (19:45); Wolves v Crystal Palace (19:45)
Thursday, 3 January: Man City v Liverpool (20:00) - live on Sky Sports