Aston Villa's Dean Smith: How have other managers fared at the team they support?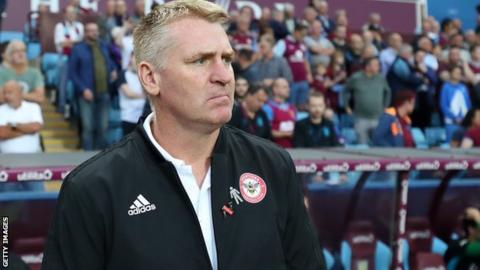 "My dad was a steward there and I was brought up an Aston Villa fan but I am not sure they are going to give Prince William the job, are they?"
New Villa boss Dean Smith only gave himself a slightly better chance of getting the managerial job at his boyhood club than the future king of England last week - but on Wednesday the club turned to him to lead them out of the Championship.
He's come a long way since cleaning seats at the ground as a child (Smith, that is) and will join a select list of bosses when he takes his seat in the Villa Park dugout for the first time.
BBC Sport takes a look at how other managers have got on when they've taken charge of the team they support, with some faring better than others.
Chris Wilder
Smith will not need to look far to see an example of a fan managing his team with a great deal of success.
Under the management of Chris Wilder, Sheffield United sit top of the Championship table, just over two years since the Blades fan took over the then League One side.
Wilder led the Bramall Lane outfit to the third tier title in his first season in charge before a respectable 10th-place finish in 2017-18.
He has never hidden his passion for the club and, after leading them to a 4-2 win over Sheffield Wednesday in his first Steel City derby on his 50th birthday, said: "This is everything. Nobody can tell me this is just another three points because it isn't.
"Walking out with my team in front of 30,000 fans today blew me away."
Simon Grayson
From the outside Simon Grayson's move from Blackpool to Leeds in December 2008 might have looked like a bit of an odd choice.
He had led the the Tangerines to the Championship in 2007 and had the makings of a team who would ultimately go on to reach the Premier League under his successor Ian Holloway in 2010.
Leeds, on the other hand, found themselves in mid-table in League One having suffered five successive defeats which spelled the end for club legend Gary McAllister.
However, after the Bloomfield Road side denied Grayson permission to speak to his boyhood club, he resigned to take over at the Yorkshire side on 23 December.
Ultimately, his spell at Elland Road was a success as he led the team back to the Championship in his first full season in charge and finished just shy of the play-offs in his first season back in the second tier.
He was sacked in February 2012 and left with a highly respectable 49.7 win percentage.
Alan Curbishley
Things were looking pretty dire at West Ham when former player and lifelong fan Alan Curbishley took over in December 2006.
A dreadful start to the season meant they were two points adrift of safety and had scored only 10 goals in 17 league matches.
Despite the predicament the club found itself in Curbishley was in a buoyant mood: "If you'd said to me when I was at West Ham at the age of 16 that one day I'd be manager I would have thought it was impossible. I'm deeply delighted and I'm looking forward to the challenge."
Inspired by Carlos Tevez, the former Charlton boss enjoyed a late-season turnaround that saw the Hammers avoid relegation with a win at Manchester United on the final day of the season.
However, despite his allegiances, Curbishley was never completely popular with West Ham fans and resigned in September 2008, claiming "a breach of trust and confidence" had left him with no choice but to leave and he ultimately successfully sued them for constructive dismissal.
Ten years on, it remains his last job in football management.
Alan Shearer
"It's a club I love and I don't want them to go down. I'll do everything I can to stop that."
It's fair to say Alan Shearer took over at his beloved Newcastle United in difficult circumstances when he swapped the Match of the Day studio for the St James' Park dugout in April 2009.
The Magpies were two points adrift of safety in the Premier League and Shearer was taking over on a short-term basis after Joe Kinnear had undergone triple heart bypass surgery.
As a player Shearer was a Newcastle legend and the club's record goalscorer but, sadly for them, he was unable to stop their slide, winning just one of his eight games in charge as they suffered relegation on the final day of the season.
In 2013 he admitted that management was "not something he was looking to do".
Micky Adams
Blades fan Chris Wilder might be enjoying his time at Bramall Lane but it was a far different experience for one of his predecessors.
Micky Adams left Port Vale to take over at Sheffield United in December 2010, saying: "I've always supported the Blades and my favourite player growing up was Tony Currie."
He took over with the club sitting two points above the relegation zone but won just four of his 24 games in charge as they went down to League One.
"I am a Blade and will always be a Blade so I am just sorry that my move here has not worked out," Adams said after his sacking in May 2011.
The South Yorkshire side remained in League One until 2017 when they won promotion under Wilder.