Israel 2-1 Scotland: Ridicule & rancour as Alex McLeish counts cost of defeat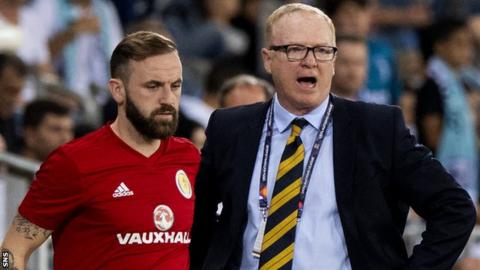 In the wake of such a putrid performance in Israel, the Scotland fans could really have done without manager Alex McLeish's "game of two halves" pap.
In saying that his team "kept possession well" in a first half where the Scots' Nations League hosts had 12 attempts on goal due, in part, to the visitors' catastrophic inability to keep hold of the ball, McLeish invited ridicule and rancour.
When he said that he'd wanted to bring on Scott McKenna for John Souttar just before the Hearts defender was red-carded, another piece of ammunition was handed to those who doubt him. McKenna was already on the pitch by then. Presumably McLeish meant to say he'd wanted to bring on Jack Hendry, but he didn't say Hendry and this stuff matters.
The optics are important. When so many people are still questioning your capacity to do the do the job successfully, you can't afford unfortunate blunders. McLeish's slip-up betrayed a man who didn't know what he was talking about. It was grist to the mill for the very people he's trying to win over.
He was not a popular choice as manager and he knows himself that he has one gigantic job to do to convince the Scottish football public that he's got this under control. He made a step forward against Albania last month, but this defeat - and those post-match comments - have dismantled that good work. McLeish and his credibility have gone back to the drawing board.
'McLeish's solution is a death wish'
Few can have anticipated the epic sweep of what happened in Haifa. Scotland went into it in decent heart after the performance against Albania, a classy, confidence-restoring victory that suggested the manager might have hit on something.
Players were picked out of position that night, but it somehow came together. Not surprisingly, McLeish went for the same 11 players and the same formation against Israel.
There won't have been too many complaints when he announced his team. Sure, James Forrest and Stuart Armstrong had big claims, but McLeish would also have been given the benefit of the doubt by most. He'd earned it at Hampden. In Israel, though, the whole edifice collapsed in the most extraordinary way.
Why was it that so many players picked Thursday to deliver, arguably, their worst performance in a Scotland jersey? All of this confusion happening simultaneously, as if hypnotised pre-match. Why?
Clearly, Kieran Tierney is not happy as a centre-half. Clearly, Andy Robertson is not happy as a left wing-back. McLeish's solution to the question about which of his wonderful left-backs should start at left-back is... neither of them. That's not a solution, that's a managerial death wish.
The country is blessed with two outstanding talents and is managing to neuter the pair of them. By picking both in positions where they're not comfortable or effective, McLeish is practically doing the job of an opposing manager.
If Andi Herzog, the Israel coach, watched DVDs of Robertson and Tierney at their best for Liverpool and Celtic, you could have forgiven him for breaking out in a sweat. When he saw where they were playing on Thursday, you could have forgiven him for breaking into song.
Stephen O'Donnell is out of position at right wing-back. Kevin McDonald, to these eyes, is a bystander in the centre of midfield.
In Haifa, this team looked ill at ease with itself. It didn't remotely keep possession well, as McLeish claimed. The players looked bewildered, particularly when Israel had the ball. It's not a coincidence that so many played as if flummoxed. McLeish's 3-5-2 was ripped apart. It should be given a decent burial now.
'It sounded like a man entrenching himself'
Of course, we're not talking about the European elite here. Israel are ranked 94th in the world, a full 55 places below Scotland. They're ranked 34th in Europe - seven places lower than Scotland.
They'd lost four in a row going into the game on Thursday. They'd been done 3-0 by Northern Ireland in a friendly last month. In World Cup qualifying, Albania went to Haifa last June and won 3-0.
And yet Scotland made them look a whole lot better than they actually are. Munas Dabbur, Ben Sahar, Beram Kayal and Dor Peretz all had chances - Dabbur had about three - to score in the first half of McLeish's game of two halves. Diaa Saba, Eli Dasa, and Taleb Tawatha (with an incredible miss) all had chances in the second half. Israel had 25 attempts on goal. Only an amalgam of poor finishing, the kindly woodwork and Allan McGregor's excellence averted an unmitigated horror show.
This could have been five or six. Even at two, it was one of the most disorientated performances any Scotland team has delivered in decades.
Only in the repeating of an old comic line could it legitimately be deemed as a game of two halves - as in, the first was even, the second half was even worse. In attempting post-match to portray the events of Haifa as a contest, rather than a game that Scotland were deeply fortunate to emerge from without a heavy beating, McLeish looked as addled as his players had been earlier.
McLeish needs to pick one of his stellar left-backs at left-back. Tierney in his usual position with Robertson ahead of him? Worth a try. Robertson at left-back and the excellent Ryan Fraser ahead of him with Tierney moving to right-back? It's not a solution the Celtic man would relish, but he's played well and has won matches at right-back with Scotland at the end of Gordon Strachan's reign.
What was perplexing was the manager's insistence that there was little wrong with the formation and that the formation, pretty much, is here to stay. That sounded worryingly like a man entrenching himself. Depending on how November's double-header goes - away to Albania on the 17th and home to Israel on the 20th - that's either going to prove to be tremendous self-belief or desperate self-delusion.
The Nations League might be a low-key event but it's a tournament sent straight from the footballing Gods for countries such as Scotland. It's an easier passage to the promised land of a major championship with no behemoth blocking your way. It's a veritable red carpet that's been rolled out.
After the sure-footedness of Albania, there's now the stumble in Israel. McLeish can't afford another. If he can't top this humdrum group then he can't seriously argue that he's the man to take things forward. He's got five weeks to wipe Haifa from the memory.