Real Madrid & Bayern Munich: What is going wrong at the European giants?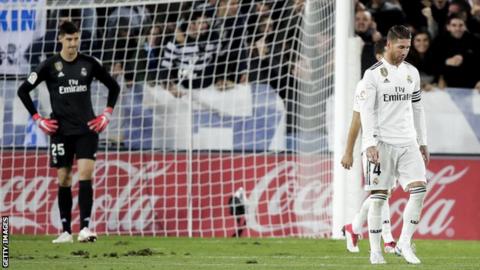 Two European superpowers, two new managers, two worrying starts to the season.
Real Madrid lifted the Champions League trophy for a third consecutive time in May and Bayern Munich won a sixth straight Bundesliga title, but it is a different story for both clubs this season.
Bayern's boss is dividing opinion with his methods, while Real's manager is already facing questions on his future.
BBC Radio 5 live's Euro Leagues panel dissect the problems both sides are facing.
Time running out for Lopetegui
Just 11 games into the role, Julen Lopetegui's job as Real Madrid boss is under threat, according to Spanish football expert Guillem Balague.
Real are winless in their past four games - losing three - and have failed to score in any of them. They are fourth in La Liga, two points behind leaders Sevilla, and suffered a shock defeat by CSKA Moscow in the Champions League.
"Lopetegui has until the Clasico against Barcelona, which is three games, to show that he is the man for the job," said Balague.
"Meanwhile, they are looking around at people such as Antonio Conte to see if his contract situation at Chelsea has been completely resolved. If you doubt that the man in charge should be continuing, that is what Real Madrid do. There is nobody from within, like previously when Zinedine Zidane was the solution.
"Lopetegui and some of the players feel it is just a blip and they can come out of it. The board is not so sure. "
Lopetegui's appointment was controversial as he was still in charge of Spain when Real agreed a deal for him to replace Zidane.
Spain's football federation responded by sacking Lopetegui in June, two days before their opening match at the World Cup.
The Spaniard does not boast a sparkling CV when it comes to club management, taking charge of Rayo Vallecano for 11 games in 2003 and Portuguese side Porto between July 2014 and January 2016.
He has had to cope with the loss of Cristiano Ronaldo, sold to Serie A side Juventus for £99.2m in the summer.
Balague said: "Real Madrid have not scored in seven hours and are missing Ronaldo. Isco has been injured but the two full-backs Dani Carvajal and Marcelo, who are absolutely crucial, have been missing too."
Breathing space for Kovac... for now
Like Real, German heavyweights Bayern Munich are also struggling - they are sixth in the Bundesliga, four points behind unbeaten leaders Borussia Dortmund.
Having won last season's title by 21 points, Bayern won their opening four games under new manager Niko Kovac, who joined from Eintracht Frankfurt in the summer.
But the Bavarians are now on a run of four without a win in all competitions, losing 3-0 at home to Borussia Monchengladbach just before the latest international break.
It seems Kovac will be given time to turn things around, though.
German football expert Raphael Honigstein said: "I do not think it has come to the point where one or two results really make a difference.
"The next game against Wolfsburg is not going to be easy, but the two matches against AEK Athens in the Champions League are a bigger deal because these are games they have to win.
"Bayern are much stronger than them and even if there are problems in the squad, you have to beat them. If they don't and fail, and qualification for the knockout stages becomes in danger, then he will be on borrowed time.
"Bayern are sixth in the table, which is an unusual position to find themselves in. It comes with the recriminations, the blame of people trying to find out what is going on. It is not easy to explain.
"It would have been easier to explain if this happened at the start of the season because there were some issues with the appointment of Kovac as manager. He was the man that was available rather than the man they wanted to excite the dressing room, fans and club.
"They also decided not to invest wholesale in a new squad and made a profit of £80m in the transfer market. They were keeping their powder dry for when it was really necessary in the summer.
"Part of that transition will happen in January with the arrival of Alphonso Davies from MLS, seen as one of the guys who will bring pace and dynamism on the flanks."
Split in the Bayern camp?
Honigstein says the questions over Kovac's appointment had gone away after their winning start, but players are now split between those who back Kovac and those who are "complaining".
"Players were saying they really like the training and it is good and physical," Honigstein said. "Now that the results have collapsed, people are trying to work out what is going on. The answers depend on who you speak to.
"Some people in the dressing room feel that Kovac is not to blame, his training has been focussed, detailed tactically and bringing fitness levels up.
"Others are complaining that it is always the same people playing, that they do not get a chance and he is sticking with the big names, and does not bring any ideas when things are not going well during a game. The substitutions do not work and he does not give ideas to opening up teams which defend well.
"Others are saying he rotates too much and they want to play all the time. 'What is he doing resting me?' James Rodriguez is your prime example of that."