Leeds United: Owner Andrea Radrizzani calls for creation of 'Premier League 2'

By Richard Conway
BBC sports news correspondent
Last updated on .From the section Leeds United470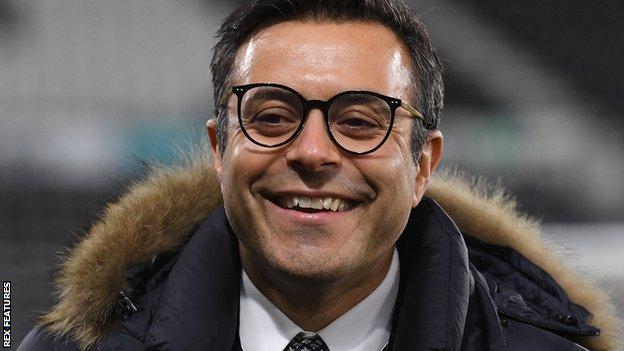 Leeds United owner Andrea Radrizzani has called for the creation of a 'Premier League 2' to help Championship clubs receive more television revenue.
Leeds earned £7.5m in 2017 under the EFL television deal, compared to a guaranteed £100m for the team that finishes bottom of the Premier League.
Six of Leeds' 12 league games this season have been moved for TV coverage.
"We lose money and we are creating a show that is high-interest for everybody," said Radrizzani.
Last season, 19 of Leeds' 46 league games were selected for Sky TV coverage, which Radrizzani says puts the club at a disadvantage.
The Italian says clubs like Leeds being "watched by 500,000-600,000 people live on Sky" but only getting £2m-£2.5m from the league for having their games televised - the rest made up via the EFL - "actually penalises us".
"We're always on TV, maybe more than 20 times. It doesn't work," he added.
Leeds are third in the Championship, with 23 points from 12 games, but the Yorkshire club have not been in the top flight of English football since being relegated in 2003-04.
Clubs relegated from the Premier League currently receive £75m in parachute payments over the subsequent two seasons if they remain in a lower division.
Radrizzani says he is yet to discuss the idea of a 'Premier League 2' with other owners of Championship clubs, but believes there is a consensus for change.
"I think the other chairmen would love to open a conversation," he said.
"The time is getting ready to consider what to do to move forward so we don't have a crisis every two years when a club go bankrupt or changes ownership every other year."
Radrizzani 'has rejected Leeds offers'
Radrizzani, who became sole owner of Leeds in May 2017, says has received multiple takeover approaches for the club, but values it at "double what I invested in it".
Speaking at the Leaders Business Summit in London, he said he was not interested in selling and wants Leeds to become one of the "top-eight brands in the Premier League".
It was reported that Radrizzani, who is also the owner of sports broadcaster Eleven Sports, paid £45m to buy Leeds.
He initially obtained a 50% stake in January 2017 before buying out compatriot Massimo Cellino's remaining 50% three months later. He went on to purchase the Elland Road ground in June, bringing it back into the club's hands after 13 years.
In August 2017, Radrizzani said he was committed to investing £100m into the club.