Non-League Day 2018: Glenn Murray on his route to the top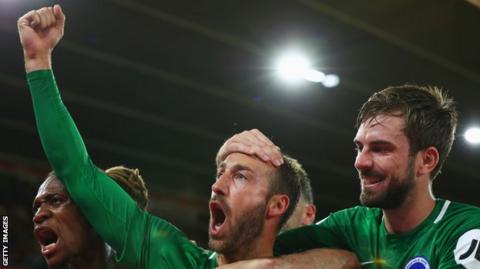 It is Non-League Day on Saturday, when you can watch Glenn Murray's Football Focus feature on Lewes FC at 12:00 BST on BBC One and the BBC Sport website.
The lowest point in my non-league career came when I was a teenage substitute for Workington Reds in a game at Blyth Spartans, and some kids started throwing eggs at me and the other subs when we were warming up.
My life now in the Premier League, where we get treated ridiculously well as players, feels like I am in a different universe.
But I would not be here playing for Brighton at the age of 35 if it was not for those days I spent outside the Football League at the start of my career with Netherhall, Workington, Carlisle and Barrow.
They did not just act as a springboard for my career, they helped me rediscover my love for a game that I had become so sick of as a teenager that I almost quit for good.
Scoring goals… and mixing batches
When I left Carlisle United for the first time at the age of 16 in 2000, I hated football.
I had a really technically minded coach, and I wasn't really much of a technical player. So that was me out of the picture and instead of being up front I played at left-back in my final few months at the club.
At that stage, I had been with Carlisle as a boy for four or five years and it was just a question of seeing out my time there rather than walking out. So I waited to be formally rejected for their YTS (youth training scheme) even though I was about 95% sure I wouldn't get one.
I was right.
I went from there to playing for a local side, Netherhall, on Saturday and Workington Reds Under-18s every Sunday, and started smashing goals in right, left and centre.
I was enjoying myself again and soon I was playing for Workington's first team on Saturdays, in the Unibond Premier League. I did that for a couple of seasons while also playing in the US for half the year, with Wilmington Hammerheads in North Carolina.
Obviously I was still not earning much money though, so when I was back in England I had to get a job as well, and was working as a plasterer's labourer.
From hating football to reigniting the dream
Playing in the Football League had always been my dream but by then the idea had gone from my mind. I thought I had to face up to the fact that it was not happening.
I was just happy doing my thing, and was thinking I would do as well as I could in the non-league scene, and pick up a bit of extra money by playing.
It was through the Hammerheads that I got a route into the professional game, via a trial at Sunderland from Mick McCarthy and then an invitation to come back to Carlisle in 2004.
But the reason I was in the US in the first place was because my old manager at Netherhall, James Irving, had sent me out there to see his brother, the Hammerheads coach, because of my form for Workington.
So, there I was back at Carlisle - who were by now a National League club. I was keen as mustard but I was training for free just in the hope of earning a contract.
The manager Paul Simpson told me he hadn't made his mind up about me, and offered me the chance to go to play for Barrow in the National League North and earn some money.
I did that and scored 10 goals in 10 games and gave Paul no option but to give me a contract. A few months later we had won promotion to the Football League - I had made it at last, and the rest is history.
Seriously, though, I was still motivated to improve and progress. I would not have made it to the Premier League aged 31 in 2014 without having that hunger.
'I knew I was learning, and I liked that'
My time in non-league definitely grounded me and taught me to take nothing for granted - there was no glamour involved, that is for sure.
But it was no slog either, I enjoyed it - it was what I wanted to do, otherwise I wouldn't have been there.
I enjoyed playing in front of a crowd. They weren't huge, only a few hundred, but they were still the biggest I had played in front of, and it was always exciting. So was playing against people I recognised, who had been in the Football League.
I also knew I was learning, and I liked that - starting with playing men's football for the first time with Workington.
Yes, it was hard, and yes, I had to grow up fast because at that level if defenders see a skinny young lad doing well like I was then they are going to give him a good kick. That happened a lot.
My older team-mates always looked out for me though and the camaraderie we had on our travels around the north of England is something I loved. There were no iPads then, and the only thing you could do on your phone other than make calls was to send texts.
We only trained twice a week but we would speak to each other all the time on the team bus, play cards and have a few drinks as well. That is one of the ways the game has changed a lot.
'Our unprofessionalism was all part of the fun'
Football has definitely got a lot more scientific since I started out too - a typical day for me at Brighton will involve cryotherapy, a daily questionnaire about sleep patterns and tiredness, plus some performance analysis.
Back in my Workington days, if we had a Tuesday night game I would be up at 7am and out to work, then finish at about 4-5pm and go home to my parents' house to ram down my pre-match food.
It would normally be cold pasta and chicken that I had made the night before, because there was no-one in to make it for me.
I would get to the stadium about an hour and 15 minutes before kick-off, get changed and play.
For away games, we might not get there until 30 minutes before kick-off depending on traffic, but it did not bother me. It was unprofessional but it was part of the fun.
We would jump off the bus saying 'let's do this' and when we won, we would say 'we don't even need a warm-up'. That was normal for me then, because it was all I knew.
My attitude has obviously changed as I've got older, and I obviously appreciate the treatment I get now - but I still look back fondly on those times because we were all playing for the love of the game.
'Never give up - you never know who is watching you'
I was reminded of how special non-league football is last week, when I went to watch Bostik League Premier Division side Lewes play Worthing for a Football Focus feature previewing Non-League Day on Saturday.
I went along to interview my team-mate Solly March, who played for Lewes before joining Brighton as a teenager.
It was a great night, with a really good standard of play that might surprise a lot of people, and a brilliant atmosphere at a club that is a big part of the local community.
There is a 3G pitch at their Dripping Pan stadium that is used by hundreds of local players of all ages.
My son is one of them - he trained there for his district side - so I know first hand what it means to youngsters to be able to use that facility whatever what the weather.
Solly's story should act as an inspiration to all of them that anything is possible. I already know that from my own experiences of course, because I never even dreamt I would play top-flight football.
It is still possible to climb that ladder like we both did, and there is plenty of talent out there waiting to be discovered.
Of course it is tough down there, but my advice to any young non-league players now would be to never give up, because you never know who could be on the touchline watching you, who could change your life forever.
Glenn Murray was speaking to BBC Sport's Chris Bevan.