Premier League stats: Manchester City could improve on last season, says Gracenote
Last updated on .From the section Premier League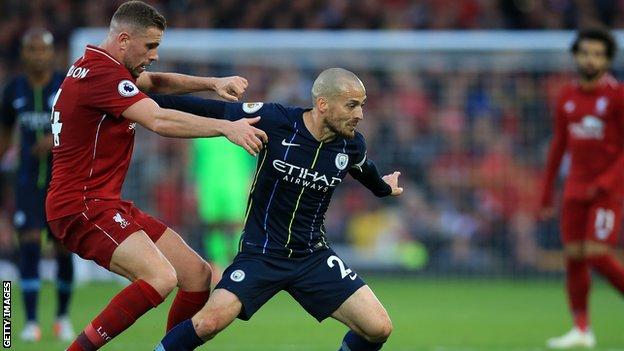 Manchester City may be even better now than the team who earned a Premier League record 100 points, according to football statisticians at Gracenote.
Pep Guardiola's side won 32 of 38 matches last season, scoring 106 goals and conceding 27 en route to the title.
However, City have performed better in their eight games this season than they did in the equivalent fixtures in 2017-18, Gracenote's analysis suggests.
The champions are one point better off and are creating 20% more chances.
They are also managing around 20 goal attempts per match this season, compared with just under 17 in the same matches last season - despite losing Kevin de Bruyne to a knee injury shortly after their opening match of the campaign. So are City performing better without De Bruyne?
Gracenote's analysis includes the number of 'expected goals' (xG), which are determined by looking at a range of variables.
Statisticians analyse a wide range of shots from Premier League history and, based on factors including the distance from goal, the angle of the shot and the type of opportunity it is, they are able to assign an xG value (expressed as a percentage) to every attempt to determine just how good a chance it is.
City's xG total from their opening eight matches this season is 21.5 - a rise on the figure of 17.5 in the corresponding fixtures last season.
In producing this analysis, Gracenote's analysts have compared like with like as closely as possible.
They have taken data from City's opening eight league fixtures, against Arsenal (a), Huddersfield (h), Wolves (a), Newcastle (h), Fulham (h), Cardiff (a), Brighton (h) and Liverpool (a).
Where feasible, they have then compared it with data from last season's corresponding game against the same opponents. Where City have faced a fixture against a team just promoted from the Championship (Wolves, Fulham and Cardiff), last season's data has been taken from the fixture against the team relegated to make way for them (Swansea, West Brom and Stoke).
Laporte and Mendy making the difference
It is not just attack that has seen improvements, as the champions also look more assured at the back, the analysis suggests.
Despite conceding 19% more chances to their opposition, the probability of those resulting in goals has been reduced by 32%.
According to Gracenote, one of the reasons for the reduction in probability of conceding goals is the team cohesion in defence, as most of the back five have played together for more than a year, while the inclusion of Aymeric Laporte and Benjamin Mendy has considerably improved the side.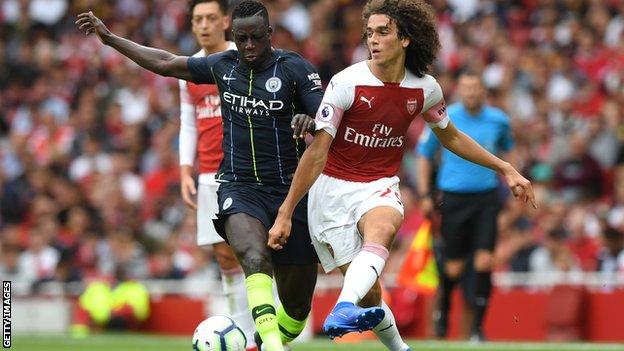 Gracenote's analysts also believe the improvement in statistics could be because the full-backs are not getting caught in more advanced positions as much.
This was evident at Anfield on Sunday where City improved on the previous season's 4-3 defeat with a 0-0 draw as Guardiola adopted a more pragmatic approach.
City return to action on Saturday, 20 October when they host Burnley in the Premier League, following the international break.