Croatia v England: 'Why are England fans going to a behind closed doors game they can't watch?'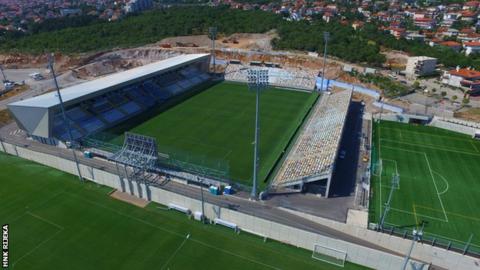 Imagine travelling hundreds of miles - and spending hundreds of pounds - on a trip to follow your team, knowing you won't see them play.
That is the prospect for the England fans trekking across Europe to Friday's Nations League game with Croatia in Rijeka.
The game is England's 988th senior international since 1872, and their first to be played behind closed doors, because of Uefa sanctions against the hosts.
It is a rematch of July's World Cup semi-final, when Croatia's extra-time victory was watched by more than 78,000 people in Moscow.
Ninety-three days on, the official attendance at the tiny HNK Rijeka Stadium will be zero.
There will still be a few hundred people inside the ground, including BBC Radio 5 live's commentary team of John Murray, Ian Dennis and Terry Butcher, the rest of the media, FA officials, Uefa staff and stadium workers - and the players.
But no fans will be allowed in, leaving desperate England supporters to seek a vantage point outside - or settle for watching in a nearby bar.
A £175 taxi? Tales from the England fans who are going
There is nothing easy about this trip for England supporters, many of whom had anticipated the matches would be held at the usual venue for Croatia's major games - the Maksimir Stadium in Zagreb - when they booked their travel.
Wolves fan James Monks, 25, flies into the Croatian capital on Thursday and he and three friends are spending £175 on a taxi to travel the 165km to Rijeka.
The total cost of his trip, including the onward journey to Spain for England's Nations League game in Seville on Monday, is around £500 - not including spending money.
"I think they have moved the game to Rijeka to try to keep people away," Monks told BBC Sport. "I have not missed an England game since Montenegro in 2011, which is why I am so desperate to get in.
"It is going to be peaceful - we just want to chance our arm and try to find a way of watching it, inside or outside the ground. If we get lucky, we get lucky, but you have to do your best."
Chad Thomas, 27, a Frickley Athletic fan from South Elmsall, is flying into Zadar - 290km away from the game - and getting a bus to Rijeka, where he is meeting friends.
He has missed one England game in the past eight years - the third-place play-off at this summer's World Cup - and intends to scout out the stadium on Friday morning, in search of a spot on the slopes overlooking it.
"If years down the line, you can say to people 'it was played behind closed doors but I still went and I saw the game from a hill', then what a story that would be," Thomas said.
"It is going to be quite exciting and we are going to make the most of it. Obviously I would rather be in the stadium, but it will be a memorable trip whether we get to watch the game or not."
David Snodgrass, 40, from Conisbrough, admits he would have had second thoughts about booking had he known he would not be able to get in, and blames Uefa.
He said: "It is not our FA's fault - they have done their best. Uefa knew about it, and could have announced it before the Nations League draw. And surely if Uefa won't let us in, they could reimburse us?"
The Leeds fan, however, is determined to go now - pointing out that he made it to Israel for a Euro 2008 qualifier in the face of safety warnings.
He said: "I am not going to be told not to travel. When we went to Israel in 2007, they told us not to travel because there was a war going on. I was like: Well that doesn't matter - they are not going to bomb me, are they?"
Snodgrass will fly to Ljubljana in Slovenia, from where he will share a hire car to drive the 115km to Rijeka.
He added: "We're football fans, not idiots looking for trouble. I've been to Croatia twice before with England, and not had any bother but there is that thought that we might get picked on this time because it has been announced as being behind closed doors.
"On the other hand, they might round us up and let us watch it from somewhere in the ground. And, if I don't go, I definitely won't get in."
Mark Bailey, 55, is a Bournemouth fan from Luton who has not missed an England game for 22 years, and has spent £450 on travelling to Rijeka and back.
Bailey is also driving from Ljubljana and explained: "My idea of going there was just to be in the same town, and you never know who you might bump into who could get you into the ground.
"I am not expecting anything like that to happen, but I don't mind forking the pitch at half-time if that is what it takes!
"Most loyal fans who have been following England every single game - and I mean every single game - are going anyway. Whether they can get in the ground is irrelevant because they are going to be there.
"That is why I am going and that is why everyone else is going. Even if we end up watching it on the telly in a pub, we are there with other like-minded England fans."
England attendance records - highest and lowest
Record
Crowd
Opposition
When
Venue
Highest:
160,000
Brazil
1959
Maracana
Lowest:
85-300
Wales
1879
Kennington
Lowest (post-war)
2,378
San Marino
1993
Stadio Renato Dall'Ara
Not every England fan who will be in Croatia is heading for Rijeka, though. Neil Hutchinson, 39, from Middlesbrough, is staying in Zagreb on Friday night, and will watch the game in a bar there.
Explaining why he would not be going to Rijeka, he said: "There was a similar situation in San Marino a few years ago where there was a 6ft wall across the road from the ground that everyone who did not have tickets clambered on to, and they could see as much of the game through a palisade fence as I could on the other side, inside the stadium.
"The authorities did not really have a problem with them doing it. There was no kind of trouble and there was a decent atmosphere.
"What has stopped me from thinking we could do something like that in Rijeka is because they have said it is behind closed doors. That could mean they will deploy some police to make sure there is no-one hanging around outside the stadium."
Why are England fans banned anyway?
Uefa has banned home and away fans as part of Croatia's punishment after a swastika was marked on their pitch before a Euro 2016 home qualifier against Italy. This is the final game of their two-match crowd ban.
The decision that it would affect this fixture was announced almost a week after the Nations League draw in January, when hundreds of England fans had booked travel and accommodation, although some supporters have told the BBC they would have gone anyway.
The Football Association explored securing a limited number of tickets for fans who had paid for flights - in the same way that Northern Ireland's FA did under similar circumstances for their game in Serbia in 2011 - but decided against it for "safety and security" reasons.
As many as 500 England fans still plan to go to Croatia, although it is not known how many will make the journey to Rijeka on the Adriatic coast.
The Football Association has advised England fans not to travel, even those who have paid for their trip.
However, Tomislav Pacak, a Croatian Football Federation (HNS) spokesman, said: "Croatia is a tourist country, and that's especially true of our coastline, so we'll be more than welcoming to any visiting fans who want to follow the game on site, regardless of the fact that, unfortunately, they can't watch the game at the stadium."
Despite the ban on fans, there will be at least 150 media representatives, around 50 broadcast technicians as well as a delegation of up to 75 people from both teams, including players and support staff.
Including security and the stadium's technical personnel, plus volunteers, HNS match organisation staff and Uefa personnel, there will be more than 500 people present.
That means the game will not break the record for the lowest number of people to attend an England match, which will still be the estimated crowd of between 85 and 300 that braved heavy snowfall to watch England beat Wales 2-1 at Kennington Oval in January 1879.
Who will the ban help or hinder?
England manager Gareth Southgate has said he would prefer to play in a full stadium, but how do Croatia feel?
The turbulent politics of Croatian football have frequently overspilled on to the terraces when the national team have played in recent years, which might explain why they have fared pretty well when their fans have been hit by an enforced absence.
Croatia have played in four games behind closed doors in the past three years, and not lost any of them.
Croatia's record behind closed doors since 2015
Date
Opposition
Score
Venue
12 June 2015
Italy
1-1
Poljud Stadium, Split
10 October 2015
Bulgaria
3-0
Maksimir Stadium, Zagreb
5 September 2016
Turkey
1-1
Maksimir Stadium, Zagreb
12 November 2016
Iceland
2-0
Maksimir Stadium, Zagreb
"There is a strong feeling that the players feel more at ease while playing without those issues involving fans, as it often includes fear of protest that could even develop into them trying to disrupt the game," said Croatian football journalist Juraj Vrdoljak.
"The Euro 2016 qualifier against Italy in Milan, when Croatia's hardcore fans threw flares on to the pitch as a protest action against their own FA, is a very good example of that.
"It isn't that precise, but there is a strong notion that Croatia tend to perform just as well behind closed doors because of those reasons."