Accrington Stanley: What is it like managing one of Football League's smallest clubs?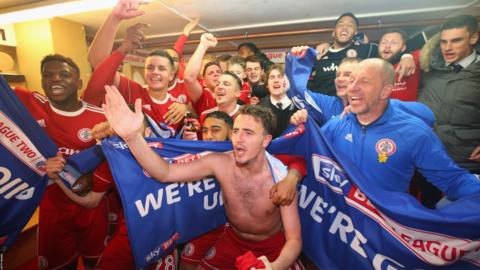 "I said recently that we play better football than Barcelona could play in League One. The next training session my midfielder Sam Finley turned up in a Barca shirt. I blanked him completely."
John Coleman is sitting in his office in a portable building behind the away stand at the Wham Stadium, a cup of tea in one hand and his mobile phone in the other. Accrington Stanley's training is finished for the day so his eldest daughter has just asked for a Facetime catch-up alongside his new baby granddaughter.
It is hardly the most glamorous of locations, but it is from here that Coleman, with his assistant Jimmy Bell and first-team coach John Doolan, has masterminded an impressive rise for what he calls the "biggest little club in the country".
Thanks in part to a 10-game unbeaten run, Stanley - sandwiched geographically between Premier League Burnley and Championship Blackburn - are sixth, level on points with former top-flight regulars Sunderland.
For a club who "get kicked off our pitches when Burnley FC Ladies training starts", it is quite an achievement.
"If you're talking about character, endeavour, effort or enjoyment we're probably one of the biggest clubs in the league," says Liverpudlian Coleman. "It's well documented that we will have the lowest budget in League One and the budget we've got this season would probably be about 15th in League Two and 10th in the National League.
"It's not about money, it's about what you get out of your players."
Depression, regret... and redemption
Coleman signed a new four-year contract in September, a significant moment for a club that celebrates its 50th anniversary this month - and which rose to national prominence in the 1980s because of a milk advert.
There have been plenty of tough periods but they are now at an all-time high, Coleman having last season secured a fourth promotion spanning two spells with Stanley, when they went up to the third tier for the first time, as League Two champions.
It has been a long road for the Kirkby-born former amateur footballer. The Reds were part-time when then player-manager Coleman came to the club in 1999. But after promotion to the Conference in 2003, and turning professional a year later, they returned to the Football League in 2006.
They came close to promotion in 2016, but were denied on the last day of the season by a single goal. It is a memory that still affects Coleman in what he says was one of the worst days of his managerial career.
"The club had all the banners ready saying Accrington are going up, and the medals were there and the champagne too, and they all had to be put back in the sponsor's car. All my family were there too so that was a big, big low.
"There's an age-old saying 'Who motivates the motivator?' I did have problems in the past at picking myself up, I'd be a bit of a recluse for a couple of days and my home life suffered. But I've gradually learned to coach myself into controlling what I can control and not get too high and not get too low."
The 56-year-old left Accrington to join Rochdale in 2012, a decision he came to regret hugely, returning to Stanley in September 2014 following spells at Southport and League of Ireland side Sligo Rovers.
"We had such an affinity with the people of the town of Accrington," he says. "We went to funerals, weddings, christenings. We were close to a lot of people in and out of the club.
"But I thought the club was in danger of going under. I just thought I was standing still. I regret leaving now because I went to a club I shouldn't have gone to.
"It was a poor time for me, a depressing time. And I did go into depression. I found it very difficult. You miss the stress more than anything and you miss purpose in your life and it just snowballs and you overanalyse things."
'Whether you drive a Bentley or a Focus doesn't matter'
The economic reality of lower-league football has always posed major challenges for Stanley.
There was a period of five years when the club went through financial difficulty, with wages and tax bills going unpaid and two winding-up orders. But like the team on the pitch, they battled through.
The town, which has a population of 35,000, has attracted an average home attendance of 2,088 so far this season - the lowest in League One and about 28,000 fewer a week than Sunderland.
"We do still need the crowds," says Coleman. "Nineteen years ago I was player-manager, we played Belper Town and there were 2,000-plus there. Yet we played AFC Wimbledon in League One, five leagues above what we were in, and there were fewer people there."
The club has the financial backing of local businessman Andy Holt, but Coleman remains cautious in his approach.
"I've got to be fiscally prudent," he says. "I understand what the club is about. I never try to live beyond our means.
"To get £2.5m for two players at Accrington Stanley [Janoi Donacien and Kayden Jackson joined Ipswich this summer] is unheard of but that mould had to be broken. We had to stop being the bargain basement club. We simply had to stop being a Lidl and become a Waitrose.
"I like proving people wrong. And the thing I most like to prove people wrong about is when they say it's all about money.
"If you're a right-winger playing against a left-back it doesn't make him better than you because he drives a Bentley and you drive a Ford Focus, or he eats steak and you eat hamburgers. It's what you do on the day and it's what you've got in your heart. We continue to confound people with that mentality."
'No waistcoats' - a team in its manager's image
Despite his limited resources, Coleman is uncompromising when it comes to the kind of players he is trying to nurture at the club.
"Treat them like men, empathise with them, know you feel their pain and you feel their joy, and likewise they will feel your pain and your joy," he says.
"If they need telling off I'll tell them off, if they need pulling into line I'll pull them into line, if they need a cuddle they'll get a cuddle."
One thing the players seem to have enjoyed since Coleman's return is a relaxation of the club's dress code.
"When we left and James Beattie took over, the club spent a lot of money on three-piece suits with smart waistcoats and when we came back we didn't think it fitted with what Accrington is about," added Coleman.
"So at our first home game after we returned from Sligo, Jimmy wrote the dress code on the whiteboard and in capital letters put - 'NO WAISTCOATS!' To be fair I reckon I could carry it off; I don't think any of my players could though."
Coleman is similarly strong in his views when it comes to how far he can take the club.
"I think we could get to the Championship and if you don't believe you can get out of a league you're in, I personally believe you shouldn't be in that league," he says.
"I don't see us as underdogs, and we're not a laughing stock any more. I don't fear anyone. We're here on merit and we're going to give it a right good go and enjoy the ride."