Liverpool 0-0 Man City: Premier League title battle is still a two-horse race - Alan Shearer

By Alan Shearer
Match of the Day 2 pundit
Last updated on .From the section Premier League

The top of the Premier League could not be much tighter, with only two points separating the top five teams, but I still cannot see beyond a two-horse title race between Manchester City and Liverpool.
But when I watch the Gunners, I don't see a team that can challenge for the title. In fact, I am still not sure they will make it into the top four.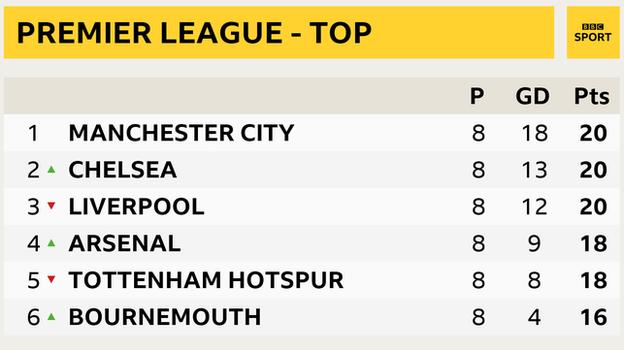 Tottenham have come through a difficult patch at the start of September to equal their best start to a Premier League season, matching their tally from 2016-17.
They certainly have not been as easy on the eye as in previous years but I don't think that will bother their manager Mauricio Pochettino too much.
What concerns me more about Spurs is still the strength of their squad and whether it is deep enough compared to the likes of City, Liverpool and Chelsea.
'Man Utd are not title contenders - fourth place is their target now'
You have to go further down the table to find Manchester United in eighth place and, much like Arsenal, I do not see them as title contenders at all.
Of course, I did not expect to be saying that after only eight games. Before the season started I thought United and Liverpool would both be close to City this time.
Now? Jose Mourinho's side are nowhere near.
As I said on Match of the Day on Saturday, what has been happening at United this season has been embarrassing, right through the club.
United have plenty of time to make up the ground they have lost on the leaders, but there is a reason they are already off the pace and, like the Gunners, I think their main aim now will just be to finish fourth.
'Chelsea can challenge, but they rely heavily on Hazard'
The league normally starts to take shape after eight to 10 games, and when I look at the top and bottom of the table, it is not too far away from how I think it will finish in May.
I am expecting City and Liverpool to fight it out, with Chelsea the only other team who can challenge for the title - though for that to happen, a lot depends on Eden Hazard.
Blues boss Maurizio Sarri has talked about there being a gap between his team and City and Liverpool, but they can close it if they can keep Hazard fit and in the kind of form he is in at the moment.
He was very impressive for Belgium at the World Cup and has carried on in this campaign where he left off in Russia - he was sensational again on Sunday to help his side beat Southampton.
Hazard has done it before for a whole season, of course, when he helped Mourinho and then Antonio Conte bring the title to Stamford Bridge. If he can do that again, they have a chance of being champions - possibly.
But my worry with Chelsea is where their other goals will come from if Hazard stops scoring as regularly, because their main strikers Olivier Giroud and Alvaro Morata are not exactly prolific.
I also have my concerns about Sarri's side defensively, namely with David Luiz playing in a four-man defence.
Saints exposed them at the back but missed two sitters, firstly through Danny Ings to go 1-0 up and then when Ryan Bertrand could have equalised.
Yes, Chelsea are still unbeaten and Sarri has made an impressive start, but they are still a work in progress compared to City and Liverpool, who remain the teams to beat.
Man City and Liverpool both wanted to avoid defeat
I think the respect Pep Guardiola and Jurgen Klopp have for each other was the reason Sunday's 0-0 draw at Anfield was such a poor spectacle of a match.
Both managers approached the game as if it was an important one in the title race. Clearly, from the way they set up, neither of them wanted to be beaten, rather than both going looking for the win.
That made it a totally different game to their meetings last season.
Klopp did not push his full-backs - Andy Robertson and Joe Gomez - up the pitch because he knew City could hurt Liverpool on the break.
City were also a lot more pragmatic than usual and did not commit as many men forward as normal - for example their full-backs Benjamin Mendy and Kyle Walker, who were both aware of the threat Sadio Mane and Mohamed Salah posed on the counter.
We have not seen that approach from Guardiola before, but if Riyad Mahrez's late penalty had gone in, his gameplan would have worked to perfection.
Even so, City will view a point at Anfield as a positive result - it is certainly better than their defeat last season - and I am sure Klopp will see a draw in the same way.
Yes it made for a drab game this time, but their real battle is only just beginning.
Alan Shearer was speaking to BBC Sport's Chris Bevan.