Wojciech Szczesny: Juventus goalkeeper on replacing Gianluigi Buffon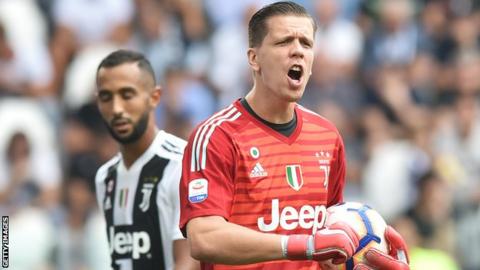 Three years ago Wojciech Szczesny's career was at a crossroads.
In the summer of 2015 he had lost his place as Arsenal's first-choice goalkeeper to David Ospina and Petr Cech's arrival from Chelsea shunted him further down the pecking order.
Yet fast forward to the present day and Szczesny is at one of the world's biggest clubs, Juventus, and tasked with the ominous job of replacing Gianluigi Buffon - arguably the best goalkeeper of the modern era.
So how did this happen, and how does the man himself feel about this dramatic reversal in his fortunes?
BBC Sport caught up with the 28-year-old Poland international in Turin this week to find out.
You can watch the interview on Football Focus on BBC One and online at Saturday at 12:00 BST.
Leaving Arsenal with regrets
"I wanted to be at Arsenal for my whole career. It is the club I love. It is the club I still support. I gave everything to play there."
Szczesny makes no secret of his affection for Arsenal, having joined from Legia Warsaw as a 16-year-old in 2006.
He made his Premier League debut in 2010 and established himself as first choice a year later, but lost his place to Ospina in January 2015.
Szczesny did play in FA Cup ties and was in goal when Arsenal beat Aston Villa 4-0 in the final at Wembley in May of that year, but it proved to be the last of his 181 club appearances.
"I regret not having done more there," he adds. "I won two FA Cups and a Community Shield but I would have liked to win at least one Premier League title.
"But sometimes you have to think with your brain, not just your heart."
One step back to take two forward
Salvation came with offer from Italian side Roma, who had finished the previous season in second place in Serie A to qualify for the Champions League.
He moved on loan for a season, which turned into two. Roma finished in the top three on both occasions and reached the last 16 of the Champions League twice.
Szczesny made 81 appearances and impressed enough to attract the attention of Juventus, who made a £10m bid.
He knew he would be playing second fiddle to Buffon but elected to play the long game.
"My first thought was that sometimes you have to take a step back to take two forward. When I analysed the situation, it wasn't much of a step back because I knew I was going to play," he says.
"I got 21 games, which is not bad for a second keeper. I also had the opportunity to learn from one of the best in history and I had one year to prepare for the job of replacing him.
"It was the best career opportunity I could ever have.
"I am proud of the way it has worked out. We all have difficult moments in our careers. It is how you react to them that counts. Where I am now hasn't come out of the blue. I have earned it."
Learning from the best
Szczesny knew there was no chance of displacing Buffon.
The 40-year-old World Cup winner had been Italy's goalkeeper of the year 12 times, Uefa's goalkeeper of the year twice, their footballer of the year in 2003 and in their team of the year on five occasions.
So, instead of trying to achieve the impossible, Szczesny decided to watch and learn.
"There is no better way to learn than watching the best in their job," he says.
"Just to be with him every day in training meant I could see how he prepared for games, how he communicated with his defenders, not just on the pitch but in the dressing room.
"He also helped me to mature. You try to live up to that standard when you are called upon."
The lessons heeded, Szczesny became Juventus' first choice this summer when Buffon left on free transfer before later joining Paris St-Germain.
"It is easier because I am not Italian. It means I will never be the next Buffon. I will be the new number one goalkeeper of Juventus and that is it. My only thought process is stopping balls flying into the net.
"I don't go into games thinking I can't make a mistake because everyone is going to miss Buffon."
Smoking in the shower
Earlier in his career, Szczesny made the headlines for negative reasons rather too often.
He was fined for smoking in a shower after a game by Arsenal manager Arsene Wenger, and was caught on camera making a rude hand gesture after being sent off in a Champions League game at Bayern Munich.
He also decided to quit Twitter after sending an ill-advised message to former team-mate Aaron Ramsey.
"I feel like I am a regular guy," Szczesny adds. "I used to smoke. I can't do too much about it. I got fined by Arsene. I have massive respect for him but because it happened at the same time as I lost my spot in the starting line-up, it got massively overblown.
"I was 20 years old when I started playing in the Premier League. Maybe mentally I wasn't quite prepared for it and that has earned me a reputation.
"But then you grow up, you mature. Now I am a husband and a father so life changes a little bit."
Continuing Juventus' 'great history'
Life couldn't be going much better for Szczesny and Juventus just now - nine games played, nine wins. Juventus are top of Serie A, six points clear of Napoli heading into Saturday's trip to Udinese, and also lead their Champions League group.
"It is not easy to do but you could say nine wins from nine is what we expected," he says.
"If we play at our level, it is difficult to beat us in the Italian league. We had one tough game away from home in the Champions League and an easy one.
"For now I just want to win trophies and continue the great history of this club. I don't want to be part of the first side to lose a championship for many years."
And while delighted to be in the situation he finds himself in, Szczsney does not envision still being at Juve - or any other club for that matter - until he is 40, as was the case with Buffon.
"I saw the sacrifice Gigi made to train at the highest level last season. When you are 25, everything comes easy to you. When you get past 35, every training session is a sacrifice. I can't see myself doing that."