Which title-winning team did you vote as the best in Premier League history?
Last updated on .From the section Premier League1291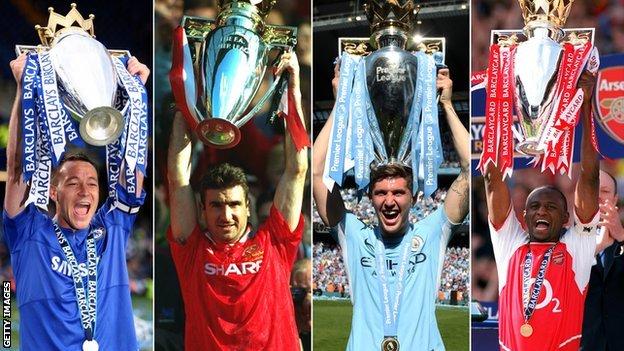 It's one of football's great debates - which top level team will go down in history as the best of the best?
The Premier League Show drew up a shortlist of eight teams from the four clubs that have won the title on more than one occasion, recruiting a panel of experts to debate which they think is the greatest of the era.
Former players Ian Wright (Arsenal striker), Wes Brown (United defender) and Chris Sutton (Chelsea forward) and journalist Miguel Delaney joined Gabby Logan to discuss the merits of all eight contenders.
You've heard their thoughts and have had your say too in our vote too, so the results in reverse order are as follows:
8. Arsenal
1997-98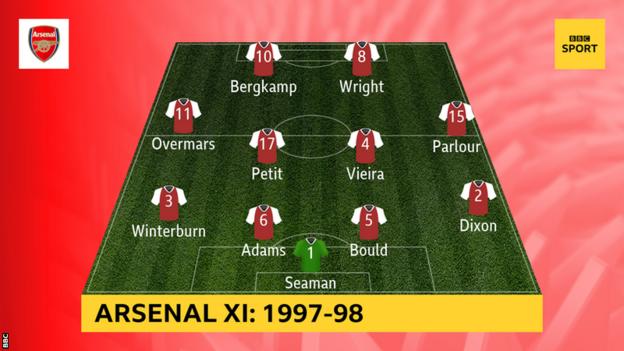 "At first, I thought, what does this Frenchman know about football?" said Arsenal captain Tony Adams, unimpressed at the appointment of manager Arsene Wenger from Japanese side Grampus Eight.
But, despite the Frenchman silencing critics in his first full season in charge, the 1997-98 Arsenal side came eighth in the vote.
The Premier League looked lost in February when the Gunners were 12 points adrift of reigning champions Manchester United, but a brilliant late-season charge that included 10 straight victories saw the trophy head to Highbury.
Having pipped United to the title by a single point and with Wenger now the first foreign manager to win the English top-flight title, Arsenal went on to complete a domestic double that season, beating Newcastle in the FA Cup final.
The team was packed with leaders including Adams, Steve Bould and David Seaman, and was sprinkled with the magic of Dutch duo Marc Overmars and Dennis Bergkamp, while midfielders Patrick Vieira and Emmanuel Petit went on to win the World Cup with France that summer.
Ian Wright: "You look at the back five with Martin Keown in and around as well, and that was what it was built on. Then Wenger brought in the likes of Vieira and Petit. Nicolas Anelka joined too and when I saw him in training I knew my time was coming to a close. I had never seen anything like it.
"Overmars is easily the quickest player I have ever seen - once he broke you could not keep up with him.
"Wenger had changed everything right through the week. It was a different place - the diet, the training."
Miguel Delaney: "There was that English defensive core and on top of it you had this modern athleticism that the Premier League hadn't seen at that point."
Wes Brown: "At United the perception was that they were big and strong, hard to score against and they did not give anything away."
7. Manchester United
1993-94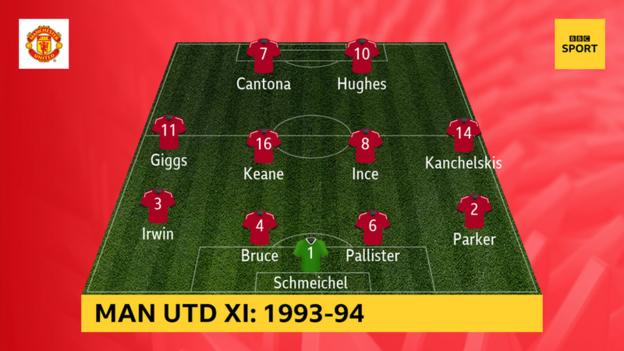 The shock signing of Eric Cantona for £1.2m from Leeds during the 1992-93 season was the catalyst for Manchester United's first title triumph in 26 years, but they only finished seventh in the vote.
Helped by the French mastermind, the Red Devils won the inaugural Premier League season and made it back-to-back titles the following campaign.
Cantona scored 18 league goals and was named the Professional Footballers' Association Player of the Year, with United going on to claim their first domestic double by thrashing Chelsea 4-0 in the FA Cup final. Sir Alex Ferguson's men could have made it a treble but were beaten 3-1 by Aston Villa in the League Cup final.
That dressing room was not for the faint hearted, full of strong personalities including Roy Keane, Peter Schmeichel, Steve Bruce, Paul Ince and Cantona.
Ian Wright: "When I hear people talking about United teams and what they should be, the 93-94 team is the one that I judge them against.
"That team was so good, so dominant and the standards they set - they were amazing to play against. You knew you could not make too many mistakes."
Wes Brown: "I was 13 at the time - I used to love Pallister, he was quick and always seemed to win the ball. Keane and Ince would battle all day in midfield, then you had my favourite player, Giggs, who was emerging - because of him I always wished I was left-footed."
Miguel Delaney: "I'm pretty sure they were top of the league from the first day to the last, but how much does lack of European progress count against them?"
6. Chelsea
2009-10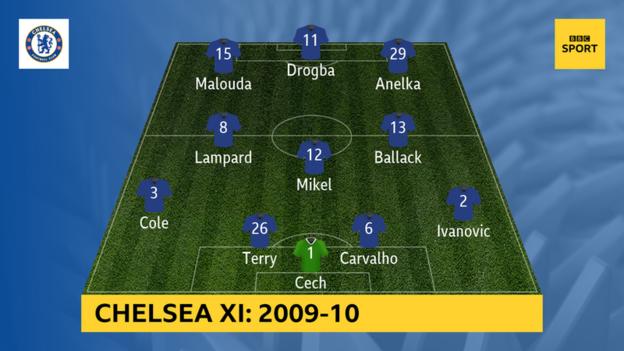 Chelsea won the title in Carlo Ancelotti's first season in charge and ended the campaign with 103 goals - a record at the time - and a goal difference of +71 to finish top ahead of Manchester United - by just a single point.
And this Blues side has finished sixth in the vote.
John Terry, Frank Lampard, Didier Drogba and goalkeeper Petr Cech featured heavily, with the likes of Michael Ballack, Florent Malouda and Nicolas Anelka providing the attacking talent.
Ian Wright: "Didier Drogba is now the fully fledged number one striker - an unbelievable player. That team was very functional, strong. They had the aura of being champions, knowing what it's like to be champions. They now knew what it's like to beat teams and how to do it."
Wes Brown: "You could see a lot of their players - they were hurt when we beat them to the title the previous season and they knew what they wanted. And Drobga - at that time he was one of the best in the world. If we are talking about team talks before a match, he was the main one."
5. Chelsea
2004-05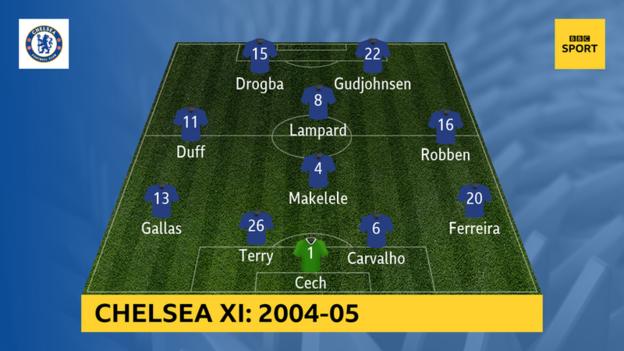 "I have top players and I'm sorry, we have a top manager. Please do not call me arrogant because what I say is true. I'm European champion, I'm not one out of the bottle. I think I'm a special one."
Portuguese manager Jose Mourinho certainly made an entrance to English football when appointed as Chelsea manager the summer after guiding the unfancied Porto to Champions League glory and it was enough to take fifth place in the vote.
Bankrolled by Russian billionaire Roman Abramovich, Mourinho built a Chelsea machine that won the title from holders Arsenal by 12 points. The Blues conceded a miserly 15 goals in 38 games and kept 25 clean sheets - both records that still stand.
Chelsea lost just one league game all campaign - against Manchester City in October - and collected their first top-flight title in 50 years. They went on to defend their crown the following season.
Ricardo Carvalho and Paulo Ferreira, who both followed Mourinho from Porto, formed part of the impenetrable defence alongside captain Terry, while holding midfielder Claude Makelele allowed Lampard the freedom to push forward and score 13 league goals that season.
Chris Sutton: "Mourinho really was the special one. To come in and back up what he said in his first press conference - it was something extremely special. At the start of the season who fancied them to win? They had to gel and mould together and it clicked straight away.
"He had a brilliant transfer window, his team were supremely well organised and had a threat coming forward."
Ian Wright: "What sticks out for me that season are the wingers Arjen Robben and Damien Duff - they were absolutely magnificent.
"Chelsea could cope with any kind of confrontation and set all sorts of records that season."
Miguel Delaney: "They shut so many games down - they would go two goals ahead and Mourinho would declare. They must have been horrendous to play against."
4. Manchester United
2007-08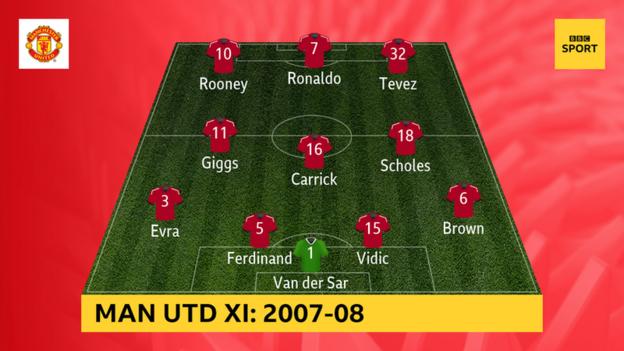 Legendary manager Ferguson's longevity lay not only in his unmatched self-belief, but also in his ability to create a number of winning sides. The 2007-08 squad was his third generation of title winners.
It was the second of three straight Premier League victories, while they also triumphed in the 2008 Champions League final against Chelsea in Moscow.
This team was spearheaded by superstar forward Cristiano Ronaldo, who netted 42 goals that season including 31 in the league, and takes fourth place in the vote.
The Portuguese forward won the first of his five Ballons d'Or - but he could not have achieved it without the support of hardworking forwards Wayne Rooney and Carlos Tevez.
The stylish Rio Ferdinand and rugged Nemanja Vidic complemented each other perfectly in central defence, while Michael Carrick kept the ball ticking in the middle of the park alongside club stalwarts Scholes and Giggs.
Wes Brown: "We were a great bunch of normal lads who really got on, and that is what made us. It was one of those perfect years when nobody was arguing or going to the manager's office every five minutes and complaining because they had been substituted.
"I remember walking out for games and we all said 'right, nothing is getting past us today', and we just believed it.
"Tevez was unbelievable, he reminds me of Luis Suarez - he was a little bit nasty, he really got in there. Ronaldo and Rooney were absolutely tearing people apart. Ronaldo just had one of those years. There was a game at Fulham and we were rubbish, but he just picked the ball up on the halfway line and went on to score."
3. Manchester City
2017-18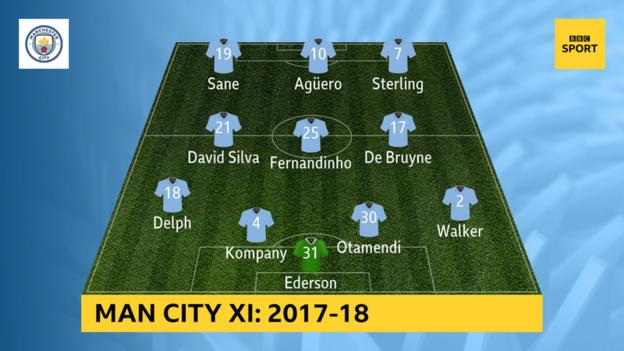 Now we are getting to the business end, in third place...
Manchester City provided perhaps the most iconic Premier League moment when Sergio Aguero netted an injury-time winner on the final day against QPR to give the club their first title in 44 years at the end of the 2011-12 campaign.
Since the turn of the decade, City have won three titles - more than any other side - and their win last season was the most dominant performance in the history of the competition.
Pep Guardiola's men became the first team to notch 100 points in the campaign and claimed numerous other records too, including:
Most wins: 32

Most consecutive wins: 18

Most away wins: 16

Most goals: 106, surpassing Ancelotti's Chelsea

Best goal difference: +79, beating another of Ancelotti's records

Biggest points margin to second place: 19
The undoubted star of the side was passmaster Kevin de Bruyne, Aguero led the line up front for much of the campaign, while Ederson brought a new dimension to goalkeeping with his range of passing.
Chris Sutton: "I thought the key to that season was the signing of goalkeeper Ederson - they started to look solid at the back. They blew everybody away.
"The mentality to keep going when they weren't under pressure towards the end of the season - Guardiola did not let them switch off."
Ian Wright: "By the time other teams got started they were 18 wins in and people were saying it was over already.
"It was a magnificent effort from them last season and they will want to win the league this season to cement their greatness. It is what they should be after."
Miguel Delaney: "The most stylish, different, sophisticated team in the Premier League. Getting to 100 points became, for them, a motivational factor - the need to do something special to commemorate the season."
2. Arsenal
2003-04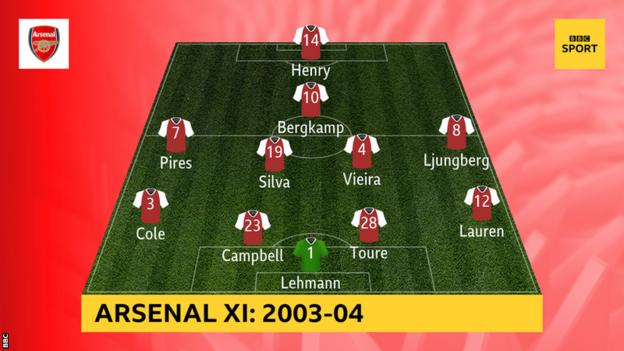 The Invincibles - wins: 26, draws: 12, defeats: 0.
Despite their unbeaten record in 2003-04, this Arsenal side is only good enough for second place in the vote.
Wenger's men became the first English team to go the full league season without losing since Preston in 1888-89, to claim their second title in three years.
The side extended their remarkable run to a top-flight record 49 games, before being beaten 2-0 at Old Trafford by rivals Manchester United the following season.
Vieira and Bergkamp remained the mainstays from the 1997-98 team, with German goalkeeper Jens Lehmann between the sticks, marshalled at the back by Sol Campbell and led up front by the magnificent Thierry Henry.
Little did Arsenal supporters suspect then that by 2018 they would not have seen their team lift the Premier League trophy again.
Chris Sutton: "It is an unbelievable achievement - they were invincible, playing attractive football."
Wes Brown: "They were one of those teams where the substitutes would have all been starting somewhere else. We knew playing them was going to be the toughest game of the season - they were all ready for it.
"Thierry Henry was always on your shoulder, his finishing was unbelievable - it seemed like every time he got a chance, he scored. Once he was behind you there was no getting back to him."
And the winners...
1. Manchester United
1998-99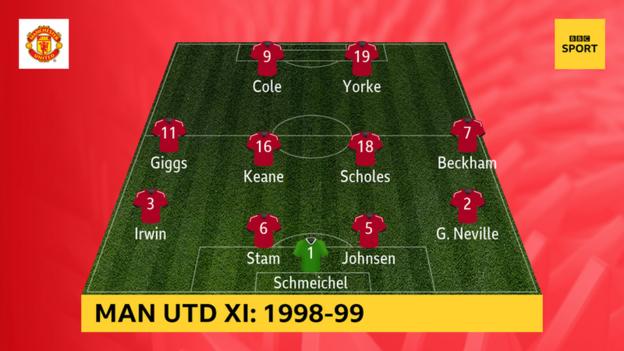 They swept aside all in front of them during the 1998-99 season and have another accolade to go with their achievements by taking the number one spot in the vote.
"Champions of Europe, champions of England, winners of the FA Cup - everything their hearts desire." Clive Tyldesley's commentary during Manchester United's last-gasp win over Bayern Munich in the 1999 European Cup final summed up the season perfectly.
United became the first - and only - English team to win all three trophies in the same campaign, and their Premier League triumph was the first of three in a row.
Strikers Andy Cole and Dwight Yorke combined in a formidable partnership to net a total of 53 goals that season, while summer signing Jaap Stam was a rock in front of goalkeeper Peter Schmeichel in his last season at Old Trafford.
But they had great strength in depth too, with Teddy Sheringham and Ole Gunnar Solskjaer available off the bench, both scoring the all-important late goals in the win over Bayern. Jesper Blomqvist and Nicky Butt started that game in place of the suspended Keane and Paul Scholes.
Wes Brown: "It was my first year in the full squad and to watch them train, it was a different level. The concentration that went into sessions, it was so quick and there was no messing about. You could not get the ball off Scholes and Keane was taking people out, training like he was playing in a match. The whole focus of the team that year was unbelievable."
Ian Wright: "You would have to go some to beat Andrew Cole and Dwight Yorke - some of the stuff they did was unbelievable. If you had to pick a team to fight for you, it would be very difficult to pick another one to match this team in terms of resilience."
Chris Sutton: "They were the side in the history of the Premier League with the most belief."
The results in full:
If you are viewing this page on the BBC News app please click here to vote.