Newcastle United: What do Mike Ashley's appearances at matches mean for the club?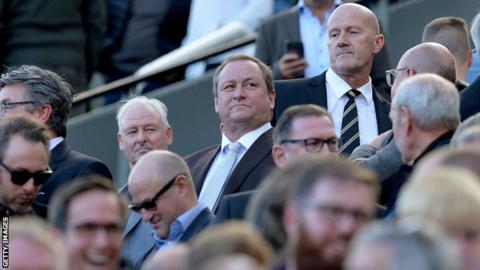 When Mike Ashley appeared in the directors' box at Crystal Palace in mid-September, it was the first time he had attended a Newcastle United match for 16 months. The following weekend, he took his seat at St James' Park for the 2-0 defeat by Leicester.
Ashley has been criticised for demonstrating a perceived lack of interest by being an absentee owner for much of his 11-year reign, so his return has been met with a degree of suspicion by supporters, many of whom see this as nothing more than a public relations move and accuse him of using the club simply as a vehicle to promote his other businesses.
But, there is also the argument Ashley is genuinely concerned by the club's seven-match run without a win at the start of the season, and feels he needs to take action now to prevent a third relegation in 10 years.
To that end, he took United manager Rafa Benitez, and the entire first-team squad, out for dinner in Northumberland this week.
It has been reported Ashley will take a more hands-on approach in the coming months, and has promised the players he will take them on holiday if they stay in the Premier League. He is also said to be determined to retain the services of Benitez, whose contract expires in the summer.
Time will tell if the dinner-date has the desired effect of improving morale and building relationships but it certainly brought more controversy for Ashley: his representatives have strongly denied any suggestion he swore at fans who were holding a peaceful protest against his ownership outside the restaurant.
The Magpie Group, a set of supporters who are campaigning for Ashley to sell, said afterwards, in a statement, he "holds the city of Newcastle and the fans of Newcastle United in utter contempt. We must all come together to drive him out of our football club".
Kevin Keegan has this week described his short tenure as Newcastle manager in 2008 under Ashley as a "nightmare".
Ashley appears to be stubborn and impervious to criticism but is surely in no doubt about how angry the fans are and how desperate they are for him to sell the club, which, 11 months after being put on the market, remains up for sale.
Former Manchester United and Chelsea chief executive Peter Kenyon is reportedly trying to form a consortium to launch a takeover bid, while businesswoman Amanda Staveley made offers in the region of £250m in the winter but Ashley ended talks with her in January, calling them "exhausting, frustrating and a complete waste of time".
He certainly knows how intrinsic a manager of the calibre of Benitez is to the success - and possibly the sale - of Newcastle but if the former Liverpool and Real Madrid boss is to stay on Tyneside, their relationship will have to improve.
Indeed, the team dinner this week was only the fourth time they have met face to face in more than two and a half years, with most of their communication going through the managing director Lee Charnley.
Benitez, who says having Ashley there to support the team is a "positive" thing, has expressed a desire to stay - and he is willing to continue working under Ashley if the trust that has been eroded can be rebuilt - but the Spaniard has been annoyed after the past four transfer windows because he feels the club have not delivered on promises, such as him being allowed to spend "every penny the club generates".
He is not asking for a fortune; more the freedom to spend what the club has - in the way he sees fit. He also wants them to deliver improvements to the training ground and the academy. But, the understanding earlier in the year was the club would only back him to that extent if he showed his commitment to them by signing a new deal first.
A stand-off ensued.
With the Magpies making a profit of more than £20m in the summer transfer window, in addition to banking around £125m for finishing 10th last season, some supporters have been asking 'where's the money gone?'.
Certainly, Ashley - who has seen for himself in recent weeks how bad things are on the pitch - will be under pressure to spend big in the January transfer window to significantly improve the squad.
But, given the club's record signing is still Michael Owen for £16m in 2005 - two years before Ashley took control - will any fans be getting their hopes up?