Neil Warnock: Manager fears Cardiff City sack
By Michael Pearlman
BBC Wales Sport
Last updated on .From the section Cardiff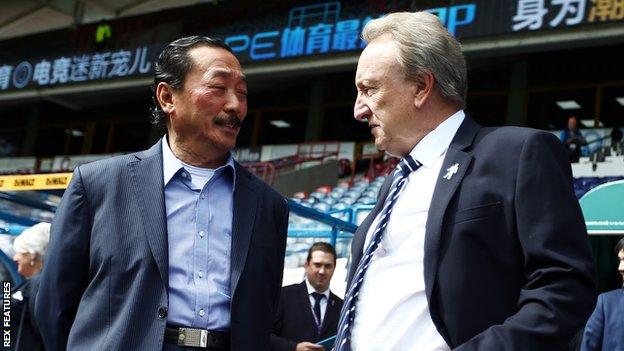 Cardiff City manager Neil Warnock admits he is under pressure and could be sacked by the Bluebirds if their results do not improve.
Warnock, 69, who took charge at the Cardiff City Stadium exactly two years ago, has yet to pick up a win this season.
That is the Bluebirds' worst start to a campaign since 1965.
"If we don't get results, no doubt it will become someone else's problem," Warnock said.
Despite the fans being in his corner, Warnock knows there is a reason he is the second favourite with bookmakers to be the first Premier League boss to lose his job.
Ahead of another daunting contest, with Tottenham at Wembley Stadium on Saturday, Warnock admits he has already heard rumours about his future.
"There is no doubt. Every manager is under pressure. You do find every big agent is pushing managers' names," he said.
"I have heard two or three be mentioned already for my job, but that's not just me, every manager gets that. I am sure Jose (Mourinho, Manchester United boss and bookies favourite for the sack) might have heard one or two (rumours).
"You hope the right people know what's going on. You can only do your own job really, what will be will be. That's the same at any level really, at the top or down below.
"The worst thing used to be when the manager to be would come and watch the game! The following manager is there watching before you've had the sack! That's happened to me a couple of times.
"Where you hear who is in the stand and then they take your job.
"That's not easy to take. But this situation, there are worse things in life. What's the worst-case scenario?
"I could go away for a few weeks with (wife) Sharon, go to Italy for a few weeks, have a nice relax and a good Christmas. And that's looking at the downside."
Must 'shoot more'
Warnock says he has been in regular contact with Cardiff owner Vincent Tan, and that the Malaysian businessman has offered no clues as to whether he is in immediate danger of losing his job.
However, the veteran manager says he knows he needs to pick up points quickly.
"I don't want it to sour, so we have to pull our fingers out and get the fans on board to keep us here until January when we can get some fresh faces in," he told BBC Sport Wales.
"I spoke to Vincent [after losing to Burnley], we speak every week. If Vincent could shoot for us he would do, he just wants us to shoot more.
"He's just wants us to do well. He was disappointed like us last week.
"But you are not daft; you know all names are being mentioned behind the scenes [for Warnock's job], every Tom, Dick and Harry.
"I'm afraid that is the reality of management at the moment. You just have to keep on doing your job. I have a conversation with Vincent twice a week and he tells me where I am going wrong.
"I can't do any more than what we are doing and I don't think Vincent can.
"I don't get the impression he's becoming impatient, but I don't reckon any manager feels that. It just happens one day you are in a job and the next day you are out.
"It depends on so many circumstances, particularly in the Premier League. You get so much advice from these top agents.
"These agents have done well for certain clubs but terrible for others. The grass isn't always greener.
"Any manager will tell you, there are times you think 'is it worth it'?
"But then I see 30,000 Cardiff fans singing against Burnley and I think 'yes it is'."