Sol Bamba ready to settle in 'perfect' Cardiff under 'father figure' Warnock
Last updated on .From the section Cardiff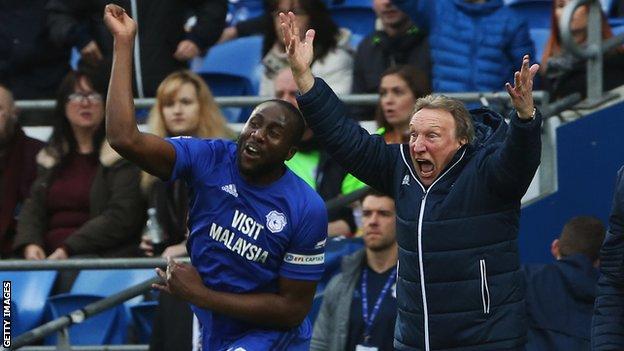 Sol Bamba is enjoying life with Cardiff City so much he is considering making the Welsh capital his permanent home when he finishes playing.
That is despite a rocky start to life in the Premier League, without a win after seven games so far this season.
The Ivory Coast defender also puts his happiness down to "father figure" and manager Neil Warnock, who marks two years in charge of Cardiff on Friday.
"It's an exciting city, with a very positive vibe," Bamba said.
"It's a great city to visit, a great city to live in... I would call it the perfect city."
Paris-born Bamba, 33, has plenty of comparisons from a career that has seen him play for clubs in Scotland, Turkey, Italy and England - plus 44 caps for Ivory Coast - before his arrival in Wales.
"The way the people are with me, even with my family, they appreciate me and the way I am... before the football player they appreciate the person as well," Bamba told BBC Africa Sport.
"That makes me feel very good and I want to do more for them.
"I've been all over and everywhere I've played I've had a great time - different coaches, different ways of playing, different language - but I can call it home here in Cardiff.
"I think when I retire I've got a good chance of living here... I'm definitely going to think about that."
Warnock: Boss or 'dad'?
Bamba was one of Warnock's first signings after he took charge on 5 October 2016 of a Cardiff side that sat second bottom of the Championship.
At the time Bamba was a free agent, having parted company with Leeds United the previous month, but had turned down other offers on the request of Warnock, who had asked the defender to wait for him to be appointed manager.
The lure was to gain promotion and allow Bamba to play in the Premier League for the first time, a promise Warnock delivered the following season as Cardiff defied expectations to return to the top flight.
"He asked me to wait for him, which I did and obviously with no regrets today because I think that was the best decision I've made so far," Bamba said.
"Since then our relationship has been stronger and stronger. I love it and I call him a 'father figure' because he's been more than a manager for me.
"Some of my team-mates call him my dad, they take the Mick a bit, but they know we've got a great relationship.
"But first and foremost is the job I'm doing on the pitch and if you perform for the manager he will give you anything, and that's what he's doing with me."
Bamba is confident that Cardiff can remain in the Premier League for longer than the one season they stayed on their last visit in the 2013-14 season.
"The best example is last season - we went up when no one expected it and it is the same for this season," he added.
"I'm a great believer that if you perform well the results will come and we did perform well. I'm sure that will turn around."
Cardiff have already faced Arsenal, Chelsea and Manchester City this season, losing to all three, and face another of the 'big six' away to Tottenham Hotspur on Saturday as they continue to seek that elusive first win.