Henrikh Mkhitaryan: Arsenal midfielder has not travelled to Azerbaijan for Europa League tie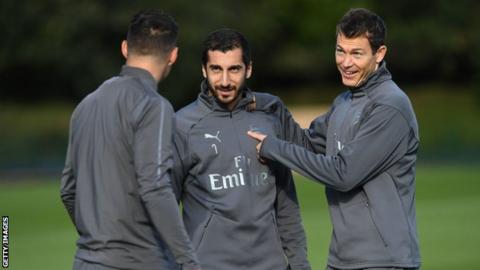 Arsenal midfielder Henrikh Mkhitaryan will not play in the Europa League tie against Qarabag on Thursday amid political tensions between Azerbaijan and his native Armenia.
Mkhitaryan, 29, did not travel with the team to capital city Baku on Wednesday.
There are no diplomatic relations between Armenia and Azerbaijan because of a longstanding conflict over the disputed Nagorno-Karabakh region.
"He cannot travel here," said Arsenal boss Unai Emery.
"We are here, the players with the best mentality and preparation and possibility to play."
The Gunners face Qarabag in Group E at 17:55 BST on Thursday.
Uefa told BBC Sport it was a "mutual decision" taken by Arsenal and Mkhitaryan "not to travel to this match for safety reasons".
While playing for Borussia Dortmund in 2015, Mkhitaryan did not travel for a Europa League tie against Azerbaijan Premier League side Gabala because of security concerns.
In a statement, Uefa said: "It is standard procedure for Uefa to send letters of support to associations, clubs or embassies in order to obtain visa for players in order to be able to travel to another country and play in Uefa competition matches."
When asked about the dispute between the two nations, Emery said: "My work is football.
"I respect each culture and I respect each country, but I don't know each situation in every country. For me, he cannot play.
"There is respect for him and respect for you. We are here with the opportunity to play well."
The 2019 Europa League final will be played in Baku.
When asked if Armenia captain Mkhitaryan would travel to Azerbaijan to play in the final should Arsenal reach that stage, Emery said: "It's a long time for us to arrive at the final.
"We are working to prepare for the next matches."
Qarabag head coach Gurban Gurbanov claimed Arsenal had "tried to save" Mkhitaryan from the "pressure" of playing in Azerbaijan.
"I didn't want politics to interrupt the sport but we could not do anything on this issue," he said.
"If Henrikh Mkhitaryan would come to Azerbaijan it is not the first time - a lot of Armenian sportsmen came to Azerbaijan but it is the choice of Arsenal that they didn't send him.
"Arsenal may be afraid that in front of 60,000 Azerbaijani fans, Mkhitaryan has some pressure and that is why they didn't send Mkhitaryan."