Cameroon President Paul Biya assures Caf over Afcon preparations
Last updated on .From the section African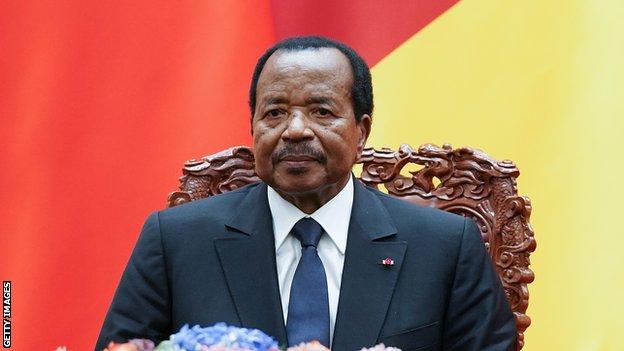 Cameroon President Paul Biya has insisted his country will be ready to host next year's Africa Cup of Nations.
Biya made the assurances to the president of the Confederation of African Football (Caf) Ahmad during a meeting in Yaounde on Tuesday.
In turn Ahmad added Caf has no plans to take the tournament away from Cameroon.
"President Biya has given us the assurance that he will give all to ensure that all the projects are completed on time," Ahmad said.
"This meeting with President Paul Biya was for us to clear the air over recent stories on social media that Cameroon were going to forfeit the organization of the 2019 Africa Cup of Nations."
Next year's Nations Cup is set to be the first to feature 24 teams and hosted in June and July rather than earlier in the year.
Questions have been raised about whether Cameroon will having everything in place to host a successful event especially in light of recent political unrest in the country.
He added that he was stunned by continuous social media reports that CAF were going to strip Cameroon of the hosting rights for the continent's pinnacle football tournament
Ahmad went onto say Caf does not have any other hosts planned for the Nations Cup.
"Caf has no plan B, Caf has never had any plan B and we have have never thought about stripping Cameroon of hosting rights of the 2019 Africa Cup of Nations," he insisted.
"It's not Caf that organizes the Afcon, it is Cameroon. It is for Cameroon to tell us whether they are ready or not.
"If they're ready, we organize the event. If they're not ready, they can ask us to give them more time. It is up to Cameroon and not Caf."
Following Caf's Extra-ordinary General Assembly on Sunday it was confirmed there would be two further inspection visits to Cameroon in the coming months to assess the country's preparations.
The Caf president was also thankful for former Cameroon captain Samuel Eto'o for arranging the meeting with the head of state.