Neil Warnock: Cardiff City boss already eyeing trio of signings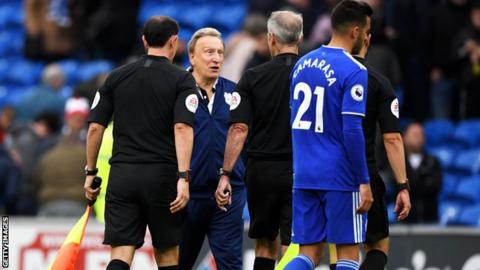 Cardiff City boss Neil Warnock says the club must not get cut adrift in the Premier League before the transfer window re-opens in January.
The Bluebirds are yet to win this season, their worst start to a campaign since 1964/1965.
Cardiff travel to Wembley next to face Spurs in a contest that marks two-years at the Cardiff helm for Warnock.
"It's the biggest challenge of my career, we have to find away of getting results until January," Warnock said.
Warnock thinks Cardiff owner Vincent Tan will allow him to strengthen his squad in the New Year as he continues to battle in his "toughest job."
"It has been a pretty amazing ride really, a lot of memorable times and probably as difficult a job as I have ever had in my career, really," he told BBC Sport Wales.
"We've got there (the Premier League) too quick though, we've been victims of our own success.
"Every few months we've jumped up two steps, rather than one.
"You can't say no to the Premier League though. The bookies have already written us off… but we can win games at this level.
"It is alright to say Vincent (Tan) should put more money in, but he's spent a fortune already.
"We need to do the best we can. Let's get more results and stay in and around the group until January and then Vincent I think will let us have two or three players."
Warnock says the Bluebirds will target the signing of a striker, having missed out on players during the summer.
"We went after quite a number of strikers, but they all fell through for one reason or another," he said.
"Sometimes you have to move quickly and we hesitated on a couple of occasions and it cost us dearly.
"We are still learning, right from the start we've said we won't moan about anything. We wanted a few more players but they aren't here. There is no point crying over spilt milk.
"We've got to try and conjure up, up until the January transfer window . . . so that we don't get adrift and that we can hopefully get two or three players in.
"When you think to deadline day, we only got Harry Arter and Victor Camarasa in 10 minutes before deadline. Imagine where we'd be without those two.
"We've really worked hard, but it has been a difficult time for us and there is no point saying differently.
"We've come so far so quickly, but you can't turn it down can you?
"When I joined we wanted to stay in the Championship, now we are in the Premier League."
Warnock says the Bluebirds' failure to capture Jefferson Lerma, who subsequently signed for AFC Bournemouth, emphasises the difficultly Cardiff have in competing in the top flight.
"We looked at Lerma. We offered £5 million. He went to Bournemouth for £25 million. We aren't in that bracket yet," Warnock said.
"I have got to work within a budget and try and get the best I can.
"At the moment I don't think we can do too much more.
"Sometimes it is difficult to digest, but you have to walk before you can run."