Jersey referees threaten to quit after 10 red cards in 12 games on one day
By Brent Pilnick
BBC Sport
Last updated on .From the section Football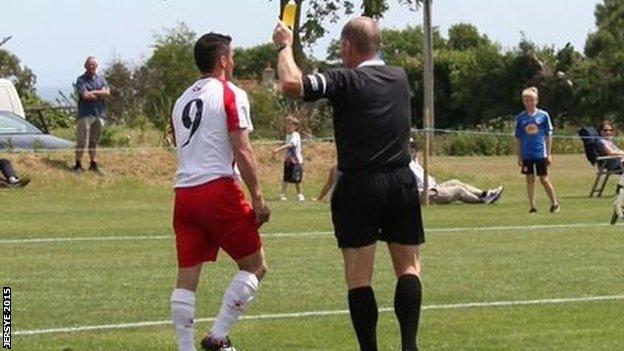 Football referees in Jersey are threatening to quit after a spate of bad behaviour in the island's league.
In 12 games on the island on Saturday, 10 players were sent off compared to four red cards in all of the 54 games in the top five divisions in England.
Five reds were for foul and abusive language, two for violent conduct and three for denying a goalscoring chance.
"The mood on Saturday evening was very black indeed," Mark Le Cornu, chairman of Jersey's referees committee said.
"At least one was talking about quitting after Saturday."

Le Cornu is one of Jersey's most respected referees, having officiated for 28 seasons, but Saturday saw him abandon a match because of player behaviour for the first time in his career.
He was in charge of St John v Sporting Academics in the island's second tier, and sent two players off after they came to blows following a tackle.
"I was going to restart the game, but St John decided that they didn't want to carry on because they had a lot of young players who didn't want to be intimidated so I was left no option than to abandon the game," he told BBC Sport.
A day earlier, a 16-year-old referee was subjected to abuse from players and supporters after sending a player off during a women's cup final at the island's Springfield stadium.
Zero tolerance approach

Le Cornu has already made a stand against bad behaviour by players by resigning as a vice-president of the island's league - the Jersey Football Combination - in December 2015.
The issue came to a head a month earlier when Portuguese Club players walked off a pitch in protest after a dispute over an offside decision, which led to the club being suspended from the island league and ultimately leaving the sport.
"What we can do as referees is adopt zero tolerance," said Le Cornu.
"Only the captain would be allowed to speak to the referee. If someone offers dissent by way or word or action, throwing the ball or sarcastic applause for example, that's dissent and that's a yellow card.
"If managers want to start shouting and screaming from the technical area, once is a warning and the second is removal, if spectators misbehave at games the referee may as a club representative from the home team to have them removed."
Fears for the future
Jersey, which unsuccessfully applied to become a Uefa member earlier this year, has just 23 referees, but even on good days, only two thirds are available because of work and family commitments or injuries.
If that number falls, Le Cornu believes the game on the island could be under threat.
"We had one Saturday this season where there were six games without a referee," he said.
"As well as having half-a-dozen teenage referees, we've got six or seven in their mid-50's or 60's, some who are doing 65 or 70 games a season, how long can they do that?
"Five referees in September did very nearly 60 games, if you were to lose two of those somewhere you've got to fill 150 slots a season.
"If people don't shape up, and I hope they will, it doesn't look good."