New Zealand women: Apology after players 'bullied' by former coach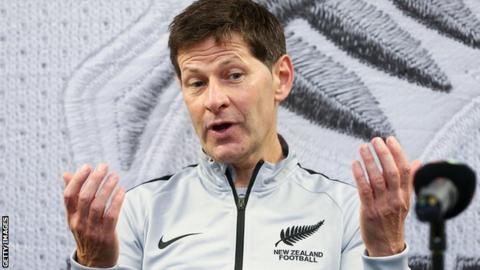 New Zealand women players were "bullied and harassed" by former coach Andreas Heraf, an independent review has found.
Ex-Austria midfielder Heraf resigned in July after 13 Football Ferns players refused to play for him.
Heraf and 12 players who made complaints were interviewed as part of the review, which concluded that the 51-year-old "offended, humiliated or intimidated" some players and staff.
Governing body New Zealand Football (NZF) has apologised to the players.
NZF president Deryck Shaw said: "We are deeply sorry that these events occurred and for the distress caused.
"We apologise to our players for the conduct of the former head coach of the Football Ferns and failings in the organisation that led to this review."
About 80 people were spoken to for the independent review, which was led by employment lawyer Phillipa Muir.
She found that the players' complaints were "genuine and largely substantiated".
"While I accept that some of Mr Heraf's actions could be characterised as 'robust' coaching, other behaviour crossed the line to bullying and harassment," added Muir.
The review also found the NZF has no diversity and inclusion policy for staff and no women on its leadership team.
"There is a perception of a 'boys' club' and a tolerance of inappropriate banter in parts of the organisation," said Muir.
Shaw said the NZF "accepts the report and its recommendations in full" and is "committed to working with players and staff to improve player welfare".