Tottenham v Barcelona: Harry Kane eyes Lionel Messi's scoring records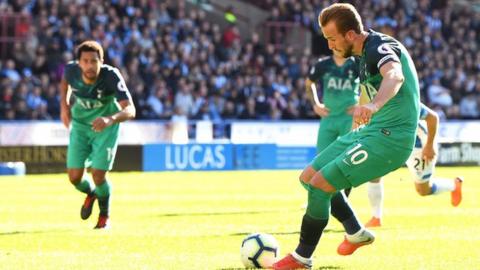 Tottenham striker Harry Kane hopes he can one day emulate, and perhaps break, the goalscoring records of Barcelona forward Lionel Messi.
Kane, 25, will line up against Messi on Wednesday when Spurs host Barcelona at Wembley in Group B of the Champions League.
"He's definitely set the standard for the rest of us and it motivates me to get even better," Kane said.
"Hopefully one day I can score as many, if not more, than he has."
England captain Kane has been the Premier League's top scorer for two of the past three seasons and won the Golden Boot at the World Cup in Russia.
His two goals against Huddersfield last weekend put him on 145 for Tottenham, taking him past Jermain Defoe and into fifth place on the club's top scorers list.
However, he is a long way behind Argentine Messi, who has scored 560 goals in 646 games for Barcelona in all competitions, with 103 of those coming in the Champions League.
"Messi and Cristiano Ronaldo have gone above the norm, when they're scoring 50 or 60 goals a season," said Kane.
"As players you want to play against the best in the world and Messi is certainly that. We will do our best to stop him."
Argentina's Messi currently holds multiple scoring records, including the most goals in a calendar year. He scored 91 goals in 69 games for club and country in 2012.