Adrian Mutu: Former Chelsea striker loses latest appeal against damages for breach of contract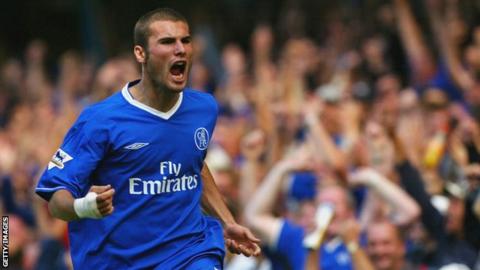 Former Chelsea striker Adrian Mutu has lost his latest appeal against a ruling that he must pay the club £15.2m in compensation after a failed drugs test.
Mutu, 39, was sacked by Chelsea in 2004 after testing for positive for cocaine and given a seven-month ban.
The Court of Arbitration for Sport (Cas) ordered him to pay damages to the Blues in 2009, upholding a Fifa ruling.
The European Court of Human Rights (ECHR) rejected Mutu's appeal against the Cas decision on Tuesday.
It said there had been "no violation" of Mutu's right to a fair trial.
After the hearing Chelsea confirmed they were still pursuing the player for the damages.
"We are exercising our legal remedies to recover the amounts owed to us and we will continue to do so," a club spokesman said.
Mutu alleged Cas had not been independent or impartial in its ruling because one of the arbitrators on its panel had been a partner in a law firm that represented the interests of Chelsea owner Roman Abramovich.
The ECHR concluded it had "no strong reason" to overrule the Swiss Federal Supreme Court, which concluded Mutu "had not substantiated his allegations" in upholding the Cas judgement in 2010.
Former Romania captain Mutu also objected to the same arbitrator sitting on the 2009 Cas panel and a previous panel in 2005 that upheld a Premier League ruling he had breached his Chelsea contract.
The ECHR said although those rulings "concerned the same facts" the legal issues to be decided were "very different" as the first was over whether Mutu had breached his contract and the second related to the amount of damages owed.
Mutu was one of Abramovich's first big-money signings when he was bought from Italian side Parma for £15.8m in August 2003.
After a promising start at Stamford Bridge, he suffered problems on and off the pitch, falling out with managers Claudio Ranieri and Jose Mourinho.
He tested positive for cocaine in September 2004 and was sacked by Chelsea the following month, shortly before the Football Association gave him a seventh-month ban.
Chelsea sought compensation from Mutu to recover a large amount of the fee they paid to sign him, with Fifa setting damages at 17.1m euros (£15.2m) in 2008, a figure that Cas and the Swiss Federal Supreme court supported.
The compensation figure, based on lost earnings, was calculated on the length of time Mutu's Chelsea contract had left to run, and was the highest handed down by Fifa.
Despite being banned until May 2005, Mutu joined Livorno on a free transfer in January that year before he was quickly sold to Juventus once they could offload one of their non-EU players.
Fifa ruled in 2013 that Livorno and Juventus should pay some of Mutu's compensation to Chelsea but Cas overturned that decision in 2015.
Mutu was also suspended for nine months in 2010 after testing positive for appetite suppressant sibutramine while playing for Fiorentina.
Now 39, he retired from professional football in 2016.
Timeline
August 2003 - Joins Chelsea for £15.8m from Parma
October 2004 - Sacked by Chelsea after positive test for cocaine and banned for seven months
January 2005 - Signs for Livorno and is then contemporaneously sold to Juventus
May 2005 - Mutu appeals against Premier League's decision to allow Chelsea to seek compensation, later rejected by Court of Arbitration for Sport
May 2008 - Fifa orders Mutu to pay Chelsea damages, Mutu appeals to Cas
July 2009 - Cas rejects Mutu's appeal
June 2010 - Swiss Federal Supreme Court upholds Fifa and Cas rulings, Mutu appeals to European Court of Human Rights
October 2013 - Fifa orders Juventus and Livorno to pay part of compensation
January 2015 - Cas annuls Fifa ruling that Juventus and Livorno owe Chelsea compensation
October 2018 - ECHR rejects Mutu's appeal against Cas ruling