Huddersfield: How Terriers are attempting to go global despite league struggles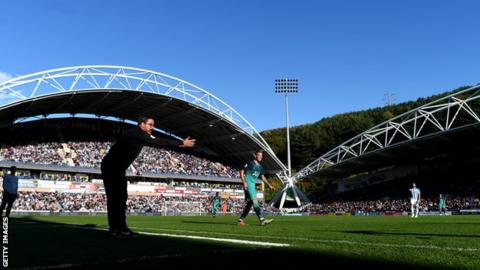 Huddersfield are bottom of the Premier League, without a win all season and have failed to score in four of their seven matches.
Their 2-0 home loss to Tottenham on Saturday means that, in their past 17 league games spanning the end of last term and the start of this, the Terriers have recorded a single win and accumulated only nine points.
So, after last season's heroic survival effort - they secured their Premier League status with a game to spare thanks to draws at champions Manchester City and Chelsea - what does the future hold for Huddersfield?
And how are one of the league's smallest clubs attempting to build on a successful first campaign in the top flight?
Forget Man Utd, even competing with Burnley is tough
Earlier this week, Manchester United posted annual turnover of £590m for 2017-18. Their commercial revenue alone was £276.1m.
Further down the scale, even Burnley, a similar-sized club to Huddersfield, separated by the Pennines and winners of two top-flight titles to the Terriers' three, were able to accumulate £16.4m in non-TV rights income during 2016-17. The comparable figure at Huddersfield for the season they got promoted was £8.3m.
It means in order to have a chance of surviving, Huddersfield need to generate more income through commercial activity.
This is not an entirely straightforward process given Town do not own their own stadium.
Although their tenancy is not mired in spiteful politics, as has become the case at West Ham, negotiations with the Huddersfield Giants Super League side and Kirklees Council are not always easy.
In an ideal world, Huddersfield would control the situation themselves. Their average attendance of 24,012 dwarfs the Giants' 5,745.
It has not always been that way, though, which is why Town make every effort to persuade their co-tenants of the joint benefits any plans for stadium improvements can bring.
'Wiser' than last season but still taking baby steps
It probably went unnoticed to virtually everyone in the capacity crowd for the Tottenham game, but Huddersfield introduced another ring of advertising behind the goal.
As with the new LED perimeter advertising, it was a sign that the club are adapting to their new status, trying to maximise the opportunities being a member of the Premier League can offer.
"Huddersfield became the 49th Premier League club. As the three who came up this season had been here before, we are still the newest," said Huddersfield commercial director Sean Jarvis.
"When we first got promoted we had millions of people offering things and wanting to purchase things. It was incredibly demanding on our time.
"We are still on a very steep learning curve but in year two, we are a little bit wiser. We know what paths we need to go down. As a business, we are picking and choosing a bit more.
"We have a US company who are partnered with the club, a German company, a Chinese company. That is nothing new to the Premier League but it is new to us."
Can Huddersfield really be a global club?
Huddersfield accept that growing a fan base to the size of Manchester United or Liverpool is not going to happen.
However, they are not afraid to use a method decried by critics of United's vast money-generated empire to bolster their own global footprint.
Huddersfield's Egypt midfielder Ramadan Sobhi has 1.68m followers on Twitter, 10 times the figure of his club.
To Huddersfield therefore, it makes absolute sense to tap into that market, especially as it is one the club have never seriously been involved in.
Jarvis said: "Without question you would use social media in that way. You almost have to use the image of that player to get you into that region. There is a connection because it is one of their own.
"If we can get a percentage of those followers supporting Huddersfield, it means our shirt sales increase. They may visit the club. A tourist coming to a game is likely to spend £500 in your community as opposed to a local individual who spends £100."
Through midfielder Aaron Mooy, an £8m signing from Manchester City in 2017, Genevieve Gao latched on to Huddersfield.
The Australian recently recounted to the local newspaper how she became a convert, how her dad bought her one of those famous blue and white shirts for her birthday, getting up at 2am to watch matches.
Jarvis is confident, even if Mooy should leave, that Huddersfield have a fan for life in Gao.
What if relegation becomes a reality?
The obvious problem Huddersfield have is that they are not one of the clubs who can take Premier League life for granted.
One fan before the game said they felt relegation was likely this season. Club officials talk about feeling like a corner shop trying to take on a supermarket giant.
In all probability, it could be this year. But whether it is in May, in 20 years' time or any point in between, it will happen.
And what happens then? Owner Dean Hoyle has a personal wealth of £290m. He is a very rich man, unless you are trying to compete with billionaires from Abu Dhabi or Russia, with clubs whose commercial revenue is roughly the same as your personal fortune.
Jarvis said: "Infrastructure is critical. It cannot be a case of blowing the budget and hoping for the best. So many clubs have tried that and failed.
"We are investing £20m in the training facility. We have refurbished boxes, media suites, pitch lights.
"We have plans in place for staying in the Premier League. Should we get relegated, we still have plans.
"Everybody wants to survive and develop in Premier League and win trophies. That is why we are in the industry.
"But we are managing something that is very important to the community. It is not just about what happens on a Saturday.
"Irrespective of what happens, we will keep moving forward."
'This is why we fought to be here'
While the situation is looking ominous - two points from seven games sit alongside a goal difference of minus 13 - manager David Wagner remains optimistic.
"It is absolutely correct we should be judged by where we are in the table," said the German. "I don't have a problem with that.
"The challenge is exciting, isn't it? This is why we fought to get into the Premier League and stay here. This is what we enjoy.
"But we have to focus on our performances, not the table. If we perform consistently as we have in recent weeks our reward will come. There is not a shadow of doubt about that."