Manchester City: Pep Guardiola wants Vincent Kompany to sign new contract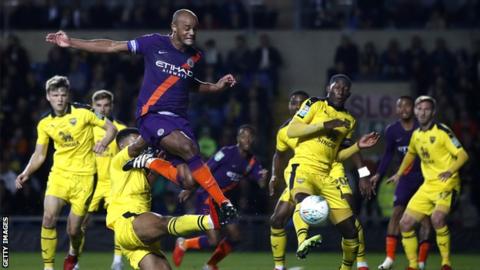 Manchester City boss Pep Guardiola wants defender Vincent Kompany to sign a new contract.
The 32-year-old Belgium international, whose deal runs out at the end of the season, will have a testimonial next August after 10 years at the club - with profits going to a homeless fund.
His last Premier League start was over a month ago.
Asked if he would like Kompany to be a City player next season, Guardiola said: "Yes, that is my wish."
The centre-back, who has had injury problems throughout his career, started Tuesday's 3-0 win over Oxford United in the Carabao Cup third round.
"It's incredible. He played the Carabao Cup like it's the final of the Champions League. That means a lot to me," said Guardiola.
"If he plays five minutes then they are going to be the best five minutes in his life. He is a good example for [teenage midfielder] Phil Foden and the rest of our squad.
"Unfortunately in the past it was the injuries but I think in the last few months he's feeling better."
Guardiola warns Mendy over lateness
Guardiola says he has spoken to Benjamin Mendy after the injured left-back turned up late to a treatment session on Sunday.
Mendy, 24, attended world heavyweight champion Anthony Joshua's victory over Alexander Povetkin at Wembley Stadium on Saturday night.
The France international is out with a foot injury and will miss Saturday's Premier League match against Brighton.
"He should be here. He knows it. I spoke with him," said Guardiola.
Mendy was banned from driving for a year after accumulating 24 points on his licence earlier this month.
The World Cup winner has made only 13 appearances for City since signing from Monaco for £52m last year, having spent seven months of last season out after rupturing the anterior cruciate ligament in his right knee.
Guardiola, who has said he wants Mendy to use social media less, said other City players had also been late recently.
"That happens sometimes, in the last period a lot have arrived late because of the traffic," said the Spaniard.
"Manchester is under construction, the players arrive late. They have to drop their kids at school."
Guardiola added that Mendy was having treatment every day but did not say when the defender will return.
"I expect him back when he's fit. Now he's injured, it's not a problem with his physical condition," he said.
"He's injured and when he's OK he's coming back and when he decides to play he's going to play."
However, Kevin de Bruyne is expected to return to training in the next few days.
The Belgium midfielder was ruled out for three months in August after sustaining a knee injury in training.
"He's making the last steps," said Guardiola.
"He starts training I think in the next days, part of the training session with us. Everything is going well."
'Aguero one of the best'
City striker Sergio Aguero is "very, very close" to being the Premier League's best foreign player ever, thinks Brighton boss Chris Hughton.
The Argentina international, 30, is City's record scorer with 205 goals in seven years.
Hughton, who takes his side to the Etihad Stadium on Saturday, said: "You might see a player come over and be brilliant for two or three seasons - but he's been brilliant now for about six years.
"Even though you are at one of the best clubs, it takes something to be as consistent as he is.
"If he's not the best then he's very, very close to the best."