League Cup: Hampden semi-finals 'beyond SPFL control' - Neil Doncaster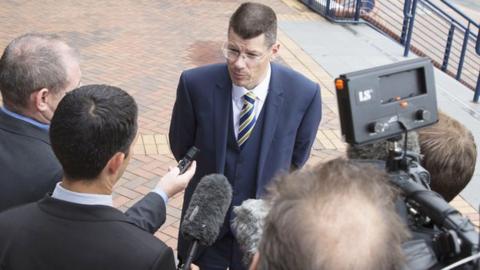 The "regrettable inconvenience" to fans of having both Scottish League Cup semi-finals at Hampden on the same day is "beyond" the SPFL's control, says chief executive Neil Doncaster.
Aberdeen meet Rangers at 12:00 GMT on Sunday, 28 October, before Hearts play Celtic at 19:45 in Glasgow.
The SPFL say it is "the best solution" because both Old Firm clubs have Europa League games on 25 October.
Hearts boss Craig Levein called it "absolute madness" and "beyond belief".
Aberdeen manager Derek McInnes joined the criticism, describing the treatment of his club's fans as "really unfair".
In this interview with BBC Scotland, Doncaster attempts to explain why the games could not be on different days, at different venues, and addresses fears over trouble and travel.
Why couldn't they be played on different days?
Doncaster cites a "very, very tightly-congested" domestic fixture schedule, compounded by Celtic and Rangers' European commitments.
He explains that Uefa's rules means there are only two free dates between now and the Scottish Premiership split in April.
One will be used to play the league matches postponed because of the semi-finals and the other will be used to play the league games cancelled on the day of the final.
"We have absolutely no flexibility to lose games and reschedule them - I wish we did, but we don't," Doncaster says.
Could they have been played at a different venue?
The SPFL is contractually obliged to stage certain matches at Hampden, unless advised otherwise by police.
With Police Scotland satisfied the semi-final arrangements are "entirely manageable", Doncaster says his organisation did "ask the question of Hampden Park Ltd" to see whether a game could be moved.
However, the was not acceptable under the deal inherited following the merger with the Scottish Football League in 2013.
"That stipulates a long list of games that have to be played at Hampden," Doncaster says.
"That includes all games being played by Celtic and Rangers and a number of other games - had Hearts drawn Aberdeen, we'd have been bound to bring that game to Hampden Park as well."
How will fans get to and from Glasgow?
At present, the first train leaving leaving Aberdeen on 28 October arrives in Glasgow 14 minutes after kick-off.
Talks are ongoing between the Pittodrie club and ScotRail about providing extra trains, which the rail operators described as "a significant logistical challenge, which the organisers were well aware of before making the decision".
Doncaster says the SPFL is "working with ScotRail" and "looking to see if any kind of flexibility can be built into the public transport system".
"We've got huge sympathy for everyone affected - managers, players, clubs, fans - and we understand the nature of the transport difficulties that will be encountered," he says.
"But we've ended up in a circumstance where we have to play two games on the same day. We've explained very clearly why that is."
What about the potential for trouble?
Although this will be the first time both Old Firm clubs have played in Glasgow on the same day for 35 years, Doncaster says Police Scotland were "supportive of this solution".
He said that clubs or football authorities "can't be determining policy" on public order.
"If anyone had another solution, then great, we'd absolutely look at it," Doncaster says.
"But there is no alternative we can see that works. It'd be nice if there was, but given the existing fixture congestion, we are where we are."