League Cup: Hearts boss Craig Levein angry at semi-final 'madness'
Last updated on .From the section Scottish355
Playing both Scottish League Cup semi-finals at Hampden on the same day is the "craziest thing", "beyond belief" and "madness", says Hearts manager Craig Levein.
Aberdeen meet Rangers at 12:00 GMT on Sunday, 28 October, before Hearts play Celtic at 19:45 in Glasgow.
Organisers say it is "the best solution" because both Old Firm clubs have Europa League games on 25 October.
"We are actually discouraging fans to come to the game," Levein said.
"It's absolute madness. I just don't understand how they can think it's all right. It just doesn't compute with me.
"I have got players talking to me about how disappointed their families are that they can't come and watch their dad playing in a semi final."
In an impassioned news conference, Levein said:
The blame falls "fair and square at the feet" of the Scottish Professional Football League (SPFL) and chief executive Neil Doncaster;

It is "not true" to say it is the best solution as it does not suit fans of any of the four clubs;

That having 100,000 fans in Glasgow on the same day "could go wrong";

Hearts want 50% of the tickets, but might not sell them;

It is not too late to change the schedule and that Hearts' Scottish Premiership meeting with Celtic the following weekend could be postponed.
Aberdeen manager Derek McInnes joined the chorus of criticism, describing the treatment of his club's fans as "really unfair".
The Pittodrie club said they were "appalled" by the scheduling as they have "repeatedly asked" for the authorities to stop giving them "completely unacceptable" kick-off times.
Both Hearts and Aberdeen have approached the SPFL with alternatives, but the league are adamant that the current plans are the only ones Police Scotland will sign off.
Rangers boss Steven Gerrard admitted he was "delighted" his side would be playing first on the Hampden surface, while Celtic manager Brendan Rodgers said the schedule looked like it would pose a "major challenge".
"The organisers and police must feel that it will be under control," he said. "We see the issues around it, both on the pitch and off the pitch. We can only control how we prepare for the game now."
'This falls at the feet of Doncaster & the SPFL'
In the aftermath of Hearts' quarter-final win over Motherwell on Wednesday, Levein said his side would play their last-four tie "wherever" they have to after Murrayfield was mooted as a potential venue.
However, after the scheduling was confirmed on Thursday, the club's owner Ann Budge said in a statement she was "astonished" by the decision.
Levein - who is also Hearts' director of football - continued that theme on Friday, with his ire centred around a desire to have as many Hearts fans as possible at the club's first cup semi-final in five years.
"I want 50% of the tickets, I want to go to Hampden and make it feel like we have a huge Hearts presence there. One thing is for certain we are not getting that on a Sunday night at 19:45," he said.
"See if it goes ahead at that time, I want 50% of the tickets. So if we get 25,000 and only sell 15,000 this club will take no responsibility for that.
"This will fall fair and square at the feet of Neil Doncaster and the SPFL. They made the decision to put a game on which does not suit supporters. It's absolute madness.
"We have just told them it doesn't suit us and Aberdeen have told them it doesn't suit them. The Old Firm have support from all over the country so it won't suit some of their supporters either."
'It's not too late to change it'
In their own angry statement on Thursday - in which they said they were "appalled" by the scheduling - Aberdeen suggested holding the two semi-finals on consecutive weekends.
That proposal involved postponing Hearts' Premiership meeting with Celtic the following weekend.
Levein described that as "a better solution", even if it mean his side giving up their "biggest advantage" of facing Celtic in the wake of a Thursday night European tie.
"When somebody says that the best option is option X. I assume they have looked at other options," Levein said.
"We play Celtic the following week. Why don't we just cancel that, reschedule it, and play that day? What's wrong with that? Is that not the better option? It's not too late."
Levein also scoffed at the SPFL's protestation that they have a contractual obligation to play both games at Hampden, suggesting it was only the case "if the Old Firm are involved".
Hearts owner Budge said she asked if the organisation could apply for an exemption given the circumstances, but was told a formal request had been unsuccessful.
"Who wrote that contract? Who signed that contract? It just doesn't make sense," Levein added. "I'm getting annoyed. I just don't understand how you can say this is the best option.
"We have not even talked about some of the others things that could go wrong - 100,000 supporters from four different clubs in Glasgow at the same time?
"Why would you tempt fate with so many things that could happen that would tarnish the name of Scottish football. It's farcical. It's not the best solution. In fact it could possibly be the worst decision."
Fans 'not important enough'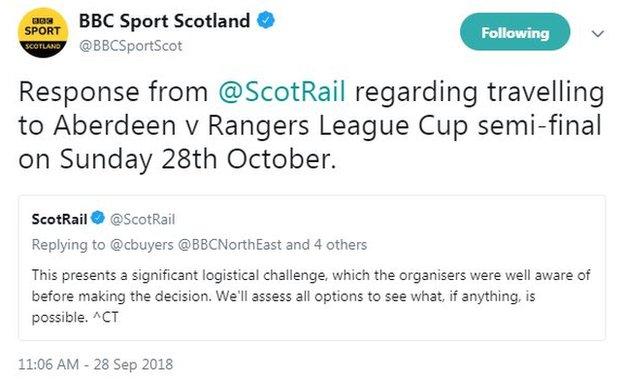 During talks on Thursday between themselves, the SPFL and the four clubs, Police Scotland advised the Aberdeen v Rangers game should be played first.
Aberdeen say they "appreciate" that view, but believe "other options should have been investigated further".
The Pittodrie side have been unhappy with numerous lunchtime trips to the central belt, including their journeys to Kilmarnock and Hampden Park in late 2016.
Aberdeen is around 150 miles from Glasgow and the first train between the two cities on that Sunday arrives 14 minutes after kick-off.
BBC Scotland understands that talks are ongoing between the Pittodrie club and Scotrail about providing extra trains.
"This presents a significant logistical challenge, which the organisers were well aware of before making the decision," Scotrail tweeted. "We'll assess all options to see what, if anything, is possible."
Aberdeen boss McInnes acknowledge that a "perfect scenario" was unlikely, given Dons fans always have to travel to the central belt for semi-finals and finals.
"For them to try and get there for an early kick-off just makes it all the more problematic. I'm sure that would have been taken into account but it doesn't seem to have been important enough," he said.
"It's important we don't take the fans for granted. There were alternatives. We're not happy with it, but we accept it and look forward to trying to get to a final with a 15:00 kick off."