Scottish League Cup semi-finals to be played at Hampden on same day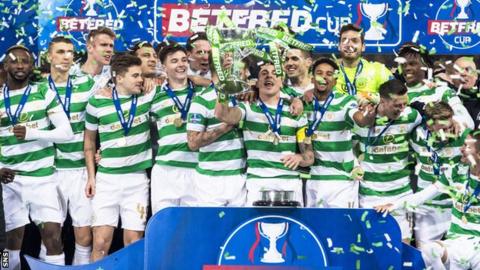 Both of this year's Scottish League Cup semi-finals will be played at Hampden Park on the same day in October.
Aberdeen will play Rangers at 12:00 GMT before Hearts face Celtic at 19:45 on Sunday, 28 October after talks between the clubs, Police Scotland and the Scottish Professional Football League.
SPFL secretary Ian Blair said this was the "best and most practical solution".
He added that Police Scotland advised that the Aberdeen v Rangers game should be played first.
The decision was taken because both Old Firm sides play Europa League group matches on Thursday, 25 October.
Despite being suggested as a possible venue, Murrayfield will not be used as the SPFL is contractually obliged to stage the semi-finals at Hampden unless advised otherwise by the police.
SPFL avoid 'major fixture congestion'
It will be the first time Celtic and Rangers have played in Glasgow on the same day since 1983, when they were involved in Scottish Cup semi-finals at Hampden and Celtic Park.
Two domestic semi-finals have never been staged at Hampden on the same day.
Blair said the SPFL had been "working hard with Police Scotland and Hampden Park" and "examined every possible permutation".
"Any alternative had the knock-on effect of causing major fixture congestion, not only for Celtic and Rangers, but for several other clubs," Blair continued in a statement.
"The fact both Celtic and Rangers are in Europe, and will hopefully be playing in the Europa League after the New Year, is obviously good news for Scottish football, but it does mean that our capacity for rescheduling games is significantly curtailed."
'Police happy but raw deal for Dons' - analysis
BBC Scotland's senior football reporter Chris McLaughlin
Police Scotland are quite happy with this solution and say they can handle situations like this, but you've got over 100,000 fans in Glasgow on that Sunday.
Not only that, but if the first game goes to extra time and penalties, you've only got a few hours to get rid of 50,000 fans and get another 50,000 in. I think everyone - the SPFL, Police Scotland, probably the clubs - will be hoping everything is settled in 90 minutes in the first semi-final.
It's always tricky for Aberdeen fans. As it stands, the first train out of Aberdeen to Glasgow that Sunday arrives at 12:14. That's not going to work. They're going to have to think of a way of getting the fans down. You have to feel sorry for them - geography, once again, has played its part in giving them a raw deal.